Vatican claims letter addressed to President Cristina Fernandez is fake
Friday, May 23rd 2014 - 10:28 UTC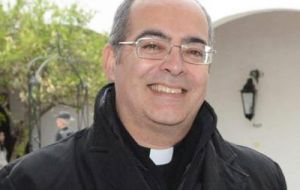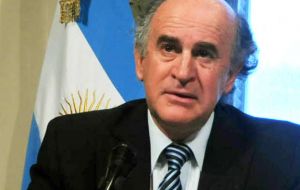 One of the Pope's closest collaborator, Argentine Monsignor Guillermo Karcher has affirmed that the alleged letter from Pope Francis to President Cristina Fernández revealed earlier on Thursday by the government is a fake.
"I'm surprised, the letter seems like a collage, this has never happened before," said Karcher to reporters. "I can't believe it. This forgery has been done with a lot of malice."
The Vatican spokesman pointed out "several mistakes" present in the counterfeit letter, like the fact that it was written in capital letters, it wasn't properly signed, and it should have been signed not by the Pope but by a papal representative.
The letter, revealed by the Argentine government and reproduced by local media earlier on Thursday, said Pope Francis urged Argentines to work towards "a peaceful cohabitation" and to build "a constructive dialogue," in the wake of the 204th anniversary of the May Revolution.
"Cristina: it is my pleasure to greet you and express my closeness and my most heartfelt congratulations to all Argentines in this national holiday," reads the document.
However the Argentine Government's Chief-of-Staff Oscar Parrilli and Worship Secretary Guillermo Oliveri have said that the letter from Pope Francis to President Cristina Fernández revealed on Thursday is authentic, and wondered why the Vatican claims it's a fake, as the letter was delivered by proper means from the Apostolic Nunciature in Buenos Aires to the presidential secretary.
"We don't know what happened, we don't know why the Vatican claims the letter is a fake", said Parrilli during a press conference held at Government's House.
"The letter was delivered from the Apostolic Nunciature to the presidential secretary by traditional, regular, proper means," Oliveri added.
The Worship Secretary said the letter came together with a sealed envelope, in traditional yellow paper, and was delivered by the person that regularly handles correspondence between the Apostolic Nunciature (the Vatican's equivalent to an embassy) and the Government.
Once the Worship Secretary received the letter, it was sent to government's Chief-of-Staff Oscar Parrilli, as it was addressed to the President, Oliveri added.
Parrilli said he called the President, read the letter, and then published it in the government's website because its content spoke to all Argentines.
"From our point of view, the letter is authentic. It was deliverer by the proper means. The Apostolic Nunciature should clarify why the Vatican says it's a fake", Parrilli insisted.