FAO challenge: insects to feed sustainably a world population of 9 billion
Saturday, May 24th 2014 - 09:52 UTC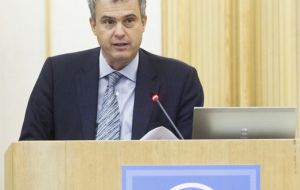 Insects can provide a sustainable and environmentally-friendly option for animal feed, in addition to already being a mainstay of human diets for 2 billion people worldwide, FAO Assistant Director-General Eduardo Rojas-Briales told an international gathering of researchers in The Netherlands.
Rojas spoke during the conference, "Insects to feed the word" jointly organized by Wageningen University and the UN agency. More than 400 participants from 45 countries have gathered for the event to examine the current status and future potential of insects as food and feed.
"The time is ripe to think about alternative sources of food in view of a growing world population, climate change threats and persisting hunger in many parts of the world," said Rojas, who oversees FAO's work in forestry and related food systems and livelihoods. Wild foods contribute to the food security of millions of people living in and around forests and most of the insects consumed by one-third of the world's people are collected from the wild.
"Certainly insects alone will not solve the world's food security challenges but it would be absurd not to mobilize their full potential in the fight against hunger and malnutrition."
"Raising insects for feed is an environmentally friendly and efficient way of producing animal feed," said Rojas. "Insects can be fed on bio-waste, compost and animal slurry, and can transform these into high-quality protein for animal feed."
"Recognizing the global potential of insects for food is not to advocate a change in the food patterns of the other two-thirds of the global population that is not used to eating insects, but to ensure that those who consume insects can continue to do so in the future in a sustainable way, and to highlight the different potential contributions insects can make to food security in the future," Rojas said.
He added that the challenge of feeding a projected 9 billion people in a sustainable way by the year 2050 will "never be achieved based on one single measure, but is only possible by a convergence of perseverant measures that complement each other."
Rojas mentioned bees as a prime example of the variety of ways in which insects contribute to food security. Bees provide honey but they are also the predominant and most economically important group of pollinators in most geographical regions of the globe, supporting pollination of 71 of the 100 crop species that provide 90% of the world's food. Also, bees are among the most commonly consumed insects in some parts of the world.
Rojas said the international scientific community could make "important contributions by generating the right momentum to overcome the still-existing bottlenecks and to unlock the full potential of insects for food and feed.