Spain supports EC proposal for an absolute ban on driftnets
Monday, May 26th 2014 - 13:14 UTC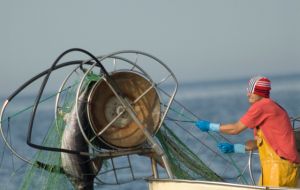 Spain's Ministry of Agriculture, Food and Environment (MAGRAMA) publicly announced its satisfaction with the proposed Regulation of the European Parliament and the Council presented by the European Commission (EC) for the banning of driftnet fishing.
This initiative definitely eliminates a kind of gear with very scarce selectivity that is, therefore, very harmful to marine conservation.
The MAGRAMA notes that while this generic prohibition was already in effect for larger nets, deficiencies in regard to the definition of gear have allowed its fraudulent use. With the new regulations, an absolute ban on the use of driftnets is set, irrespective of their size or the target species.
In addition, discrimination among the different European fleets is eliminated, as some fleets from other Member States have continued using these gears given the above mentioned shortcomings of the European legislation while in Spain the use of driftnets has been banned since 1990.
According to the Spanish government, the ban improves the negotiating position of the European Union to promote the measures targeted to definitively eradicate the use of these gears, which are highly destructive and perform indiscriminate catches, including a large number of marine mammals and turtles.
Following the submission of this proposal, work will start in the meetings of the Board's Policy Group to set a common position among Member States, and later this proposal will be discussed with the European Parliament, in compliance with the co-decision procedure. (FIS).-