Malvinas and Bolivia's ocean outlet, the 'two open wounds' of Latin America
Tuesday, May 27th 2014 - 08:23 UTC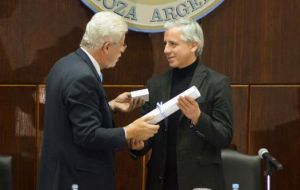 Latin America has two open wounds, the Malvinas Islands and Bolivia's sovereign outlet to the Pacific, said Bolivian vice-president Alvaro Garcia Linera in Mendoza, Argentina where he was awarded an 'Honoris Causa" for his commitment to regional integration and inclusion.
"We Latin Americans have two open wounds: the Malvinas Islands which are Latin American and Argentine and our sovereign outlet to the Pacific Ocean. But we want that outlet not as a vindication of our right but to better integrate with Chile, Peru and Brazil", said the Bolivian official at the Cuyo University.
The ceremony at the University of Cuyo which was attended by university staff, ministers, political officials, academics, diplomats, students and members of the Bolivian community took off with the Argentine and Bolivian national anthems and the reading of a congratulations message from Mendoza governor Francisco Pérez, who was not able to be present.
Dean Arturo Somoza praised the figure of the Vice-president García Linera and his political and social career, as well as his dedicated militancy in favor of the dispossessed and Latam integration.
"I'm an irremediable subversive of life. For 35 years I fought for the emancipation of the people and now we are ruling Bolivia with President Evo Morales, the first indigenous government after so many years searching for equality and the rights of the true owners of our land", said the Bolivian official.
Garcia Linera reiterated Bolivia's long standing commitment and support of Argentine sovereignty over the Malvinas/Falklands Islands and called for a concerted action to peacefully recover the 'colonial enclave' which persists to our days.
He then recalled several incidents of the country's history when the Spaniards with the promise of discussions, set ambushes to indigenous leaders which they then murdered. But in 1817 under the command of Manuel Belgrano, it was the first time that there was an acknowledgement of the indigenous peoples contribution and "this was done by the Argentine army"
"There is no future for Latin Americans unless we think continental" said Garcia Linera who recalled support for President Morales in 2008 when there was an attempt to forcibly remove him from office.
"It was Unasur that impeded the empire from going along with the coup".
Finally he called for a revolution in thinking "because terrorism is no longer an instrument, we need to think how to design an integration strategy. We have to plan, organize and generate from our minds".