Falkland Islander Debby, first woman to be appointed to top tourism job in New Zealand
Wednesday, May 28th 2014 - 08:06 UTC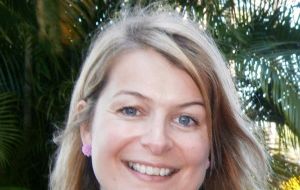 Falkland Islands and former Tourism Development Manager for Sulivan Shipping Ltd, Debs Summers, now living in New Zealand has become the first woman ever to join the Board of Directors of leading destinations Management company ID New Zealand.
Miss Summers who was headhunted from her job in the Falkland Islands by the company has worked there now for seven years.
Managing Director of the company Jeremy Palmer said her promotion came in, "recognition of her massive contribution to the market position ID enjoys amongst ground handlers in New Zealand."
In her new position as Executive Director, Miss Summers will take on additional governance responsibilities said Mr. Palmer, "particularly around human resources and setting strategy as well as her existing sales and marketing management roles.
"Her appointment also carries with it the responsibility of 2IC to me."
When working for Sulivan Shipping in the Falklands Miss Summers was highly influential in terms of encouraging many cruise companies to include the Falklands on their itinerary.
Member of the Falklands tourism industry regularly have the opportunity to catch up with Miss Summers at the International Association of Antarctic Operators and at the Miami Sea-trade cruise shipping convention, where she is always happy to help out with introductions to cruise tourism operators and executives. (PN).-