Venezuela airline tickets to rise 350% beginning July first; part of a deal to pay pending debt
Wednesday, May 28th 2014 - 00:19 UTC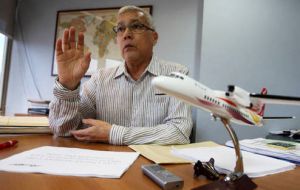 As airlines cut service to Caracas and Venezuela struggles with a continuing debt crisis, the government of President Nicolás Maduro revealed that it would raise all international airline ticket prices by 350%. The measure should allow to pay part of the 4 billion dollars owed to foreign airlines, according to the government.
The executive president of the Venezuelan Association of Airlines, Humberto Figuera revealed in an interview with a local television station that beginning July first airlines will calculate the price of the tickets at the country's weaker Sicad II exchange rate of about 50 bolivars per dollar, one of the four exchange rates that exist in the country. The official rate is of 6.3 Bolivar to the dollar.
The new measure is a setback in the pockets of Venezuelans, who will have to pay more than triple if they want to book an international flight in Bolivares. This is due to the different rates for the U.S. currency, whose trade is allowed only to the Venezuelan government since 2003. Simultaneously, the measure could increase available seats if airlines decide to offer different seating price range, a possibility that had practically disappeared so far this year.
Currently the airlines sell seats in local currency at the rate of 10.90 Bolivar per dollar, a marker set by the government so that some firms can import supplies, auto parts, components for the petrochemical and chemical industry, electric, needed for their operation. That subsidy, which benefited local and foreign travelers who would rather take a flight to Caracas and then buy a ticket taking advantage of the exchange rate differential, ended up being a problem for companies, as cash flow problems became increasingly worse.
The government refuses to raise the price of gasoline for the domestic market – a subsidy of approximately 12 billion dollars annually – and sells its oil in unfavorable conditions to Caribbean countries. Since 2012 the government has not timely delivered currencies for repatriation of income and profits of international airlines, which are estimated at nearly 4 billion dollars.
Finance Minister Rodolfo Marco Torres announced the deal, which will allow six Latin American airlines, including Colombia's Avianca and AeroMexico, to repatriate revenue from local sales in 2012 and 2013.
The debt deal was reached in a closed-door meeting with representatives of the airline industry. Alitalia of Italy and Panama's Copa this month became the latest airlines to cut flights to Venezuela, citing the debt impasse.
The deal announced Monday came just a few days after President Nicolas Maduro denied that airlines are leaving over debts, arguing that some are temporarily rerouting planes to meet surging demand to travel to Brazil for next month's World Cup.
Air Canada and TAP of Portugal are among other airlines that have reduced flights to Venezuela in recent months, citing the repatriation problems spurred by a shortage of dollars. Several US carriers have restricted ticket sales, making it difficult to find seats on remaining flights out of the country.