US Lower House approves legislation to impose sanctions on Venezuela
Thursday, May 29th 2014 - 06:00 UTC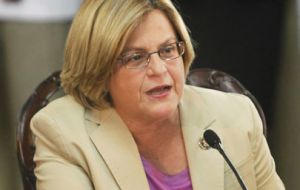 The US House of Representatives passed legislation on Wednesday, to impose sanctions on Venezuelans responsible for human rights abuses during anti-government protests, despite Obama administration worries that they could threaten talks seeking to ease the unrest.
The bill would authorize the Obama administration to deny US entry visas to Venezuelans deemed responsible for rights abuses during three months of unrest and freeze their assets.
It passed by voice vote in the House, with backing from both Republicans and Democrats. A similar measure approved by the Senate Foreign Relations Committee has not yet come before the full Senate.
"The United States Congress must stand ready to act on the cause of freedom and democracy around the globe," Florida Republican Representative Ileana Ros-Lehtinen said in a House speech seeking support for the bill.
Since anti-government demonstrations began in Venezuela in February, at least 42 people have been killed and more than 800 injured. About 3,000 people have also been arrested, with more than 200 still behind bars.