Another 180,000 tickets for the World Cup will be put on sale on Wednesday
Wednesday, June 4th 2014 - 08:30 UTC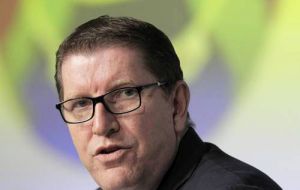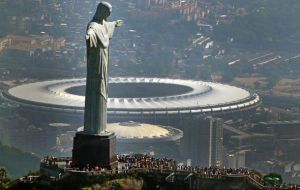 Football fans have one more chance to experience the 2014 FIFA World Cup Brazil live in the 12 stadiums. announced FIFA. As of 00.01 Brazilian time on Wednesday, 4 June 2014, about 180,000 tickets will be up for sale on www.FIFA.com/tickets, in addition to those tickets that are currently available. There will be tickets for all 64 matches.
In order to give an equal chance to all fans who are interested, no matter if they are based in one of the 12 FIFA World Cup Host Cities, in other areas of Brazil or international fans who plan to come to Brazil for the event, these additional tickets will be made available on FIFA.com/tickets.
Like on any other day until the Final of the FIFA World Cup, as of 9h00 local time in each venue, on Wednesday 4 June fans will also be able to purchase available tickets in one of the 12 FIFA Venue Ticketing Centers, which are:
• Belo Horizonte - Boulevard Shopping : Av. dos Andradas,3.000, Santa Efigênia
• Brasília - Centro de Convenções Ulysses Guimarães: SDC Eixo Monumental - Lote 05
• Cuiabá - Shopping Pantanal - Av. Historiador Rubens de Mendonça, 3300 - Jardim Aclimação
• Curitiba - Patio Batel Shopping: Av. do Batel, 1.868 – Batel
• Fortaleza - Centro de Eventos do Ceará: Av. Washington Soares nº 999, Portão E - Edson Queiroz
• Manaus - Centro Cultural dos Povos da Amazônia: Praça Francisco Pereira da Silva, s/n°
• Natal - Shopping Cidade Jardim: Av. Eng. Roberto Freire, 2920 - Capim Macio
• Porto Alegre - Barra Shopping Sul: Av. Diário de Notícias, 300 - Cristal
• Recife - Shopping Recife: R. Padre Carapuceiro, 777, Edifício Garagem B1, Boa Viagem
• Rio de Janeiro - Casarão General Severiano: Av. Venceslau Brás, 72 - Botafogo
• Salvador - Iguatemi Shopping: Av. Tancredo Neves, 148, Estacionamento I-1
• Sao Paulo - Ginásio do Ibirapuera (Quadra Lateral=: R. Manoel da Nóbrega, 1361, Paraíso
FIFA reminds fans that the additional ticket collection points at airports and further locations in Rio de Janeiro and Sao Paulo are only for tickets that were already purchased online. It is not possible for fans to purchase tickets there.
"Fans don't need to queue at the FIFA Venue Ticketing Centers - if they want tickets to the matches which are currently temporarily unavailable, all they need to do is to access FIFA.com/tickets from the first minute of Wednesday 4 June. The sale of this new lot starts at midnight from Tuesday to Wednesday, Brasilia local time. Sales occur on a first come, first served basis", explains Thierry Weil, FIFA's Marketing Director.
These additional tickets are due to the release of buffers in some stadiums following their delivery.
Also, after about ten months of sales, FIFA takes note that there has been very little demand for the seats dedicated to people with reduced mobility. Therefore, FIFA will make the majority of this inventory available to all fans but keep an allocation of these seats reserved.
Finally, fans are reminded that even after the 4 June release, additional tickets might become available through FIFA´s official resale platform which is used by ticket holders to resell their tickets.
FIFA finally reminds fans that all spectators, including children of all ages, require a ticket to access the stadiums.