Timid S&P ignores Moody's and leaves Uruguay' risk rating unchanged
Wednesday, June 4th 2014 - 09:03 UTC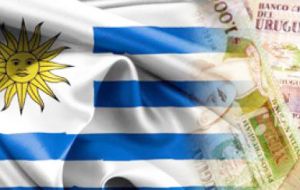 Standard & Poor's (S&P) decided on Tuesday to maintain Uruguay's sovereign debt risk rating unchanged at the lowest investment grade BBB-, because although it has solid growth prospects, predictable policies and a favorable debt profile, the country still has limited fiscal and monetary flexibility and lives in a neighborhood experimenting 'economic stress'.
Only last week another risk rating agency Moody's elevated Uruguay's standing to its historic highest, one step above minimum investor grade, at the same level as Colombia, Peru and Brazil.
S&P stated that Uruguay implements predictable economic policies, has solid growth prospects in the midterm and a favorable debt repayment profile, but there are also some 'limitations'.
"Limited fiscal and monetary flexibility, which is serious for a still highly dollarized economy", plus vulnerabilities emerging from a small and open economy exposed in a region which is "experimenting economic stress".
Likewise the 'stable' prospect and the government's capacity to make the necessary adjustments with fiscal, monetary and other instruments in case of an external adverse shock, will influence credit rating in coming years.
S&P argues that "if GDP growth continues and economic diversification, plus a decreasing debt load and improved monetary and fiscal flexibilities, will provide Uruguay with a greater capacity to resist negative external shocks".
The credit risk rating agency estimates that Uruguay's GDP will expand 3% in 2014 and with continued efforts to diversify the economy, as well as attracting big scale foreign investment projects, "it will sustain GDP growth at that speed or even faster in the coming three years".
Regarding the most visible risks, S&P mentions contagion from Argentina, a country with which Uruguay has very close trade and financial links. However "our ratings of Uruguay reflect our evaluation that those links are less tighter than a decade ago"
Last Friday Uruguay's Economy minister Mario Bergara commenting on Moody's statement, underlined that the most significant impact would be for "the other risk rating agencies to follow on Moody's steps and help Uruguay advance another step in the investment grade scale", but S&P does not seem ready for the leap.
Moody's Investors Service last Friday announced it had upgraded Uruguay's government bond rating to Baa2 from Baa3, and assigned a stable outlook to the Baa2 rating.
The upgrade was driven by the strengthening of Uruguay's sovereign credit profile, as reflected by the convergence of fiscal and debt metric, an overall government debt profile that is currently associated with moderate credit risks, and the country's reduced vulnerabilities to regional and commodity shocks.