"In the Shadow of Shackleton's Cross; An Antarctic Memoir"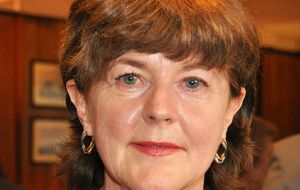 Author: Beverley McLeod - A charming, well-written and informative book about the author's childhood experiences in South Georgia. Born in Stanley in 1951, Beverley McLeod lived on South Georgia between 1957 and 1961, where her father was a radio operator at King Edward Point for the Falkland Islands Dependencies Survey.
For much of her time there she had no other children to play with; and she had no formal schooling at all during those four years.
Her book describes how she was taught by her very demanding father who, sadly, had become a victim of drink.
This led to domestic violence and, finally, to economic hardship for the whole family.
During those difficult times the family was sustained only by her mother's love, devotion, and hard work.
The author describes the kindness of the Norwegian sealers employed nearby at Grytviken, then the largest whaling station in the world.
It describes some of the details of the whaling process - and the dangers of life in that isolated spot.
The book also describes the couple of years following her return to Stanley, with interesting insight into school life there.
In 1963, this came to an end – although a most successful one – when she won a Falkland Islands Government scholarship to go to a boarding school in Britain.
This book is not only the story of a quite unique childhood, but also a valuable record of the realities of life in South Georgia before the demise of the whaling industry there, and in the Falklands in the years before Argentine involvement, and finally war, changed life there for ever.
I strongly recommend it
By Peter Pepper
Published by Orion; April 2014; ISBN 9781849860314; 402 Pages; Softback.
Available on Amazon for £15.99 and in the Falklands very shortly.
There is a dedicated website for it at: www.shackletonscross.co.uk