Positive scenario for Argentina's decisive battle with hedge funds later this week
Monday, June 9th 2014 - 20:52 UTC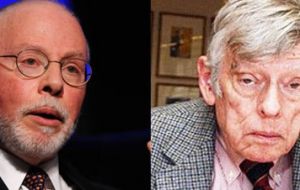 New York judge Thomas Griesa rejected last week a request by hedge fund investor Paul Singer to chide Argentina over its apparent "best option" plan to default on all its debt should it lose its last-chance appeal later this week before the US Supreme Court.
The news was released when an Argentine delegation of lawmakers arrived in the US to lobby before Congress and the Executive.
The news piece, published on The New York Post and signed by Michelle Celarier, affirmed "Singer was enraged by a leaked confidential memo written by the country's lawyers at Cleary Gottlieb that indicated Argentina was considering defaulting on all of its debt should the Supreme Court decline a request to hear the case."
It added "lawyers for Singer's Elliott Management called the memo a "smoking gun" that proved Argentina was preparing "to disobey the court's order to pay up."
The article went on to say "Griesa, in refusing to scold Argentina, said the memo was a privileged document between Argentina and its lawyers."
Meanwhile the Argentine congressional delegation, with members from the ruling Kirchnerite coalition and opposition groups, arrived in Washington D.C to support Argentina's stance in its court battle with holdout hedge funds.
The delegation has meetings scheduled with State Department officials and Republican lawmakers. At the State Department they will meet with US Assistant Secretary of State for Western Hemisphere Affairs Roberta Jacobson and Special Assistant to the President and Senior Director for Western Hemisphere Affairs Ricardo Zuñiga.
Domínguez praised the unity achieved in the delegation. "I value the lawmaker's attitude to prioritize national interest," he said before boarding the plane that took them to the US. "Politics have won".