King Juan Carlos does not want his son "to wither waiting" as Prince Charles
Tuesday, June 10th 2014 - 21:59 UTC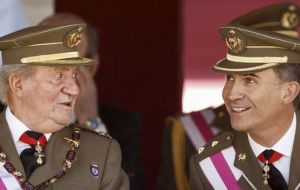 Spain's King Juan Carlos, 76, said he was abdicating in favor of his son because he did not want him "to wither waiting as Prince Charles expects to in England", according to a report from the Daily Telegraph. The comment reportedly was made to his household staff: "I must give way; I have fulfilled my mission"
The King is expected to hand over the Spanish crown to Felipe most probably sometime next week following the approval of abdication legislation in Congress since the Spanish Constitution does not contemplate such a situation.
Rafael Spottorno, head of the royal household, added that the king said: "My intention was to rule a free and democratic country and that has been achieved."
Juan Carlos is handing over to Crown Prince Felipe, 46, after 40 years. The King said that it was time for "a younger generation to step into the front line".
Earlier this week and with a walking cane, the king presided over his last military parade, before his son takes over. Juan Carlos is suffering of poor health and has undergone surgery several times in the last few years.
Mr Spottorno was earlier reported to have said the king had been deciding whether to abdicate since his 75th birthday in January 2013.
Prince Charles at 65 is the oldest heir to the British throne for 300 years. He has been waiting for 62 years since becoming heir apparent at the age of three when his mother acceded to the throne in 1952, aged 25.
Royal historian Hugo Vickers said that the Queen is not likely to abdicate.
He added: "She was pretty irritated when Queen Juliana of the Netherlands abdicated in the 1980s because monarchs should not abdicate".
Vickers said that unlike King Juan Carlos, who has faced a slump in his popularity, the 88-year-old Queen has showed no signs of slowing down. Fresh from a three-day visit to France for the 70th anniversary celebrations of D-Day, she then flew directly to the Derby on Saturday.