Argentina and Brazil extend auto industry accord until July 2015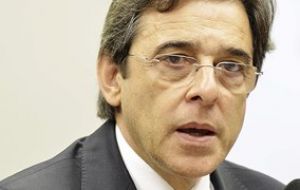 Argentina and Brazil finally on Wednesday in Buenos Aires a deal for automotive trade between the two nations, which will be valid until July 2015 and aims to revive the sector which has seen heavy falls in activity (and jobs) since the beginning of this year.
The new pact stipulates a "flex in vehicle trade exchanges of 1.50," according to both governments, who spoke briefly following a meeting between Argentine Economy minister Axel Kicillof, Industry minister Débora Giorgi and Brazil's Industry minister Mauro Borges.
This means a commitment from Brazil to export 1.50 dollars for every dollar imported from Argentina in the automotive sector. The proportion was previously 1.95 to 1, in Brazil's favor.
Speaking at a press conference convened after the meeting, Kicillof praised the deal signed with Brazil and assured that it would help to maintain jobs in both countries. "This is a very satisfying day," the minister told reporters.
"With this deal, we will look to continue going forward in the process of productive integration," he added, stating that officials were "very pleased, because a new stage of deepening the bilateral relationship has been opened."
"Argentina and Brazil represent together the third-biggest automobile market," Kicillof pointed out, underlining that the two countries would work in tandem to break into other markets.
"What matters is the volume of trade and the agreed flex favors a fluid exchange between the two countries" argued Brazilian minister Borges.
Likewise car manufacturers from both countries signed an accord that will ensure that at least 11% of cars sold in the Brazilian market come from Argentina; currently 9%. On the other hand 44% of new cars registered in Argentina are of Brazilian origin.
Finally Kicillof said that the agreement tries to impede large misbalances in the bilateral trade relation because of the different strategies of the auto assembly plants on both sides of the border.
"The agreement is for one year which will give us both greater certainty regarding the trade balance and thus issues related to the availability of hard currency in both countries", concluded Kicillof.