Argentina's 'Congressional inflation index' in May, 2.28% and 39.9% in twelve months
Thursday, June 12th 2014 - 07:06 UTC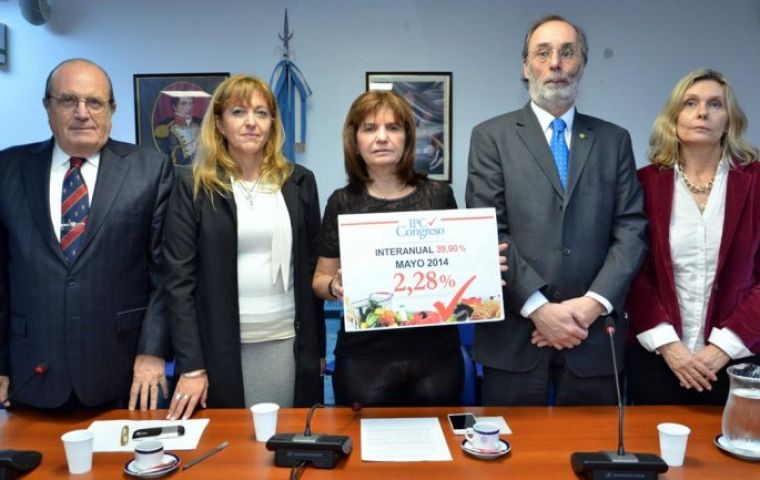 Inflation in Argentina during the month of May reached 2.28% and 39.9% in the last twelve months according to the so called 'Congressional index' which is released by opposition lawmakers from the Freedom of Expression committee.
The congressional index is an average of Argentina's private consultancies estimates, which for a couple of years were exposed to fines by the Cristina Fernandez administration if they made their releases public.
Thus faced with this challenge, lawmakers from the opposition decided to turn the estimates of the main consultants into a monthly average announcement that comes ahead of the official Indec consumer prices index.
The congressional indexes have been usually almost double those from the much discredited Indec, which was intent in keeping the annual inflation index below 10% and the GDP growth figures in accordance with Argentina's Treasury capacity to pay earnings on the country's sovereign bonds that adjusted to growth.
However since the beginning of this year the Argentine government after several scuffles with the IMF, is delivering a new more global national urban consumer price index elaborated with the help of the Fund, and which gives a better picture of the consumer prices evolution.
But whatever the index, Congressional or Indec, to be released this Friday, the inflation tendency in Argentina is for a slower process after the peak months that followed January's 18% devaluation of the Peso.
Furthermore as Argentina begins to apply more orthodox policies to contain spending on transport and public utilities subsidies, and with Brazil's economy (the country's main partner in manufacturing) moving at snail pace, the pressure on prices in easing.
But anyhow annual inflation in Argentina can be expected to converge in the range of 24% to 30%, as the economy slows down and interest on (consumption) credit becomes dearer.