Easy-monetary policy advocates join the Federal Reserve; Fischer confirmed vice-chairman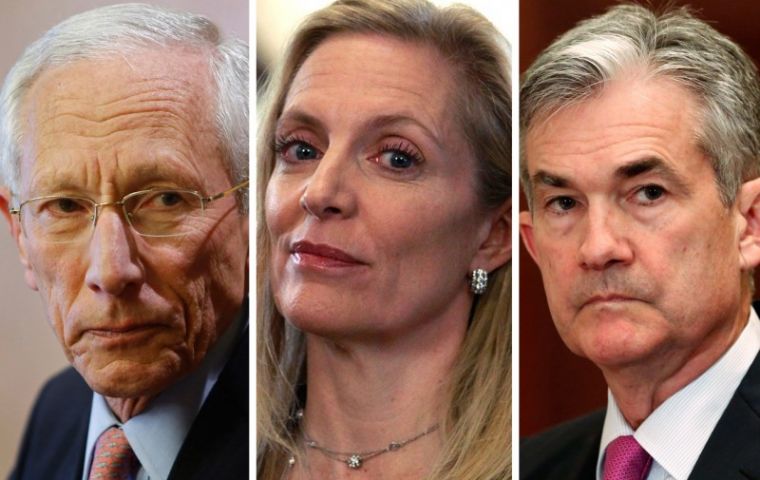 The US Senate confirmed on Thursday Stanley Fischer to be vice chairman of the Federal Reserve and approved Jerome Powell and Lael Brainard as members of the central bank's board, bolstering the Fed as it prepares to wind down its extraordinary stimulus.
Fischer, confirmed last month as a member of the board, was approved to be the central bank's influential No. 2 on a 63 to 24 vote. Powell, already a member of the board, was granted a new 14-year term on a 67 to 24 vote. Brainard, a former top official at the US Treasury, was backed 61 to 31.
The votes mean all three should be in place for next week's meeting of the Fed's monetary policy committee, joining the debate over how to pull back the economic supports put in place to counter the recession and nurse the recovery.
The action also cements President Barack Obama's influence over the Fed and US monetary policy for what may be years to come.
The five current governors are all Obama appointees and hold terms that extend until at least 2020 and as late as 2028. There is no guarantee they will serve that long - Fed governors often quit before a full 14-year term expires - but Obama also has two open seats still to fill.
The new members will be plunged quickly into the thick of decisions requiring long-range judgment about the direction of the economy. Fischer and Brainard are expected to share chair Janet Yellen's focus on keeping an easy monetary policy in place for some time to lift wages and employment.
Fischer, the former head of the Bank of Israel and a noted academic has authored three popular economics textbooks, Macroeconomics (with Rüdiger Dornsusch and Richard Startz), Lectures on Macroeconomics (with Olivier Blanchard), and the introductory Economics, with David Begg and Rüdiger Dornbusch. He was also Ben Bernanke's, Mario Dragui's and Greg Mankiw's PhD. thesis advisor. Bernanke is the former Fed chief; Dragui head of the European Central Bank and Mankiw one of the main sponsors of the new Keynesian economics.
Fischer has been outspoken in arguing that the fallout from the economic crisis showed the need for aggressive central bank actions. Brainard has argued the same in her former role as head of international affairs at Treasury.
In the near-term, the course seems smooth. Fed board governors and regional bank presidents have been generally optimistic about the pace of economic growth, and have held to a consensus that the main stimulus program of monthly bond buying could decline gradually and end later this year.
Still-high unemployment and low inflation mean a decision to raise interest rates, which have been held near zero since late-2008, is unlikely until perhaps the middle of next year.
But between now and then, the central bank will face an array of issues it must tackle to set the stage for that initial rate increase.
The Fed now holds 4.3 trillion in assets, for example, and policymakers will have to make a call regarding how long to keep reinvesting the proceeds of maturing bonds and securities, and when to let those holdings begin to shrink.
That decision, which is crucial to financial markets, has already engendered debate and talk of a potential compromise between those who want to keep the Fed's balance sheet large and those who feel interest rates should rise sooner and more quickly.