Argentina's inflation index in May, 1.4% and 13.5% in five months
Monday, June 16th 2014 - 00:35 UTC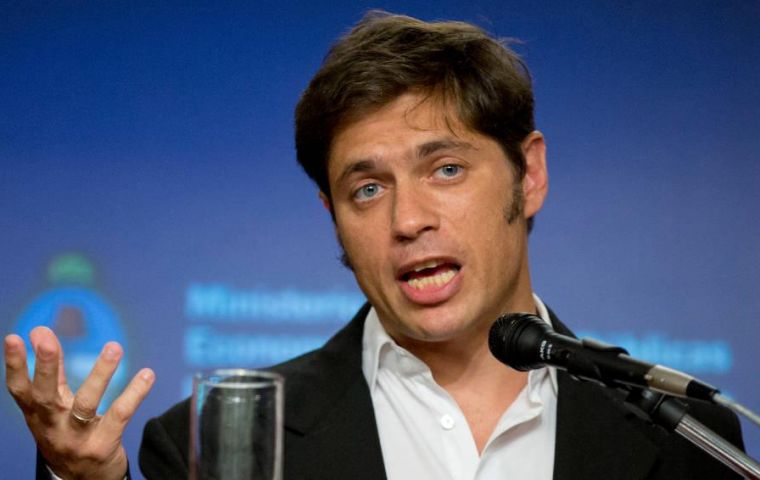 Argentina's consumer price index revealed an inflation rate of 1.4% for May, down from 1.8% in the previous month announced on Friday Economy Minister Axel Kicillof at a press conference held at the Ministry in Buenos Aires. In the first five months of the year inflation stands at 13.5%.
"We saw a strong deceleration overall but it was the category of food and drinks that particularly interested us" said Kicillof who went on to criticize the hike registered in medicines and generic drugs.
"The case of generic drugs is an important one, as people are captive consumers, and we also had negotiated maximum prices for those products. Some businessmen have clearly violated the negotiation," he explained.
The Economy Minister also blasted the "Congress index", released by opposition political referents, based on an average from private agencies and which said May's inflation rate was 2.3% and 39.9% in the last twelve months.
"That index is unprofessional," said Kicillof, and praised the new INDEC elaborated index, which has been okayed by IMF's Christine Lagarde.
A sharp devaluation in January stoked inflation as Argentines, who often think in dollars because they lack faith in their own currency, raised prices to adjust to the new exchange rate. It also boosted the cost in pesos of imported goods.
Private economists say Argentina's inflation rate may be more than 30% in 2014, compared with about 25% last year.
Argentina revamped its consumer price index this year in a bid to win back the trust of investors after years of blatantly underreporting inflation.
The government has implemented unconventional measures such as supermarket price caps in an attempt to control rampant inflation, while the central bank has hiked interest rates, tightening monetary policy.
However independent economists say the key issue is excessive deficit spending and that the government needs to cut back expenditure and keep wage hikes under control.