G77 plus China summit confirms the close ties of Beijing with Latin America
Monday, June 16th 2014 - 05:52 UTC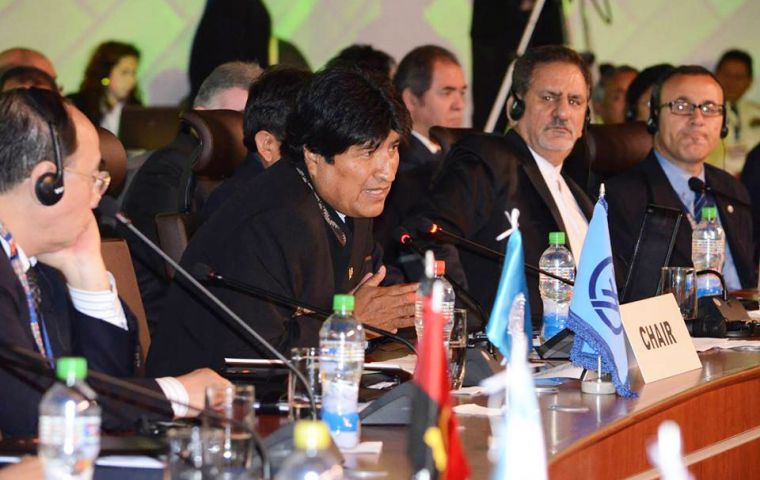 The summit of G77 leaders plus China wrapped up Sunday with a call for an end to poverty by 2030, after a demand by Bolivia's President Evo Morales to eliminate the UN Security Council. It also marked the presence of Beijing which has become the leading trade partner of many Latam countries.
The accord, largely ironed out in advance in New York by the 133 members, also set goals for sustainable development and national sovereignty over natural resources -- a key concern for China, the world's second-biggest economy and with increasing clout in Latin America.
"Ending poverty is the biggest problem the world faces and indispensible for sustainable development," said a statement read out by host Bolivia's UN Ambassador Sacha Llorenty on the last day of the summit in Santa Cruz, a dynamic business center.
"We stress that eradicating poverty must continue to be the main goal and driving force behind the agenda for development beyond 2015," the statement added, calling poverty "an affront to human dignity."
They earlier deliberated on calls for a new economic world order -- and a fairer international system.
Morales, the group's current president, called for "eliminating world hierarchies."
"The UN Security Council should be eliminated because it has encouraged wars and invasions by imperial powers to appropriate natural resources of invaded countries," he said.
Morales, the first democratically elected indigenous president of South America's poorest country, also called for "replacing financial institutions like the IMF."
China, which is not a G77 member, was participating in the summit partly in a nod to its expanding trade ties in the region, although President Xi Jinping was not in attendance.
Beijing was represented by Chen Zhu, a vice chairman of China's National People's Congress. Chen met with Morales ahead of the summit opening, and pledged an 80 million dolalrs loan to modernize Bolivian airline BOA and purchase four new aircraft, Bolivia said.
With massive purchases of commodities and exports of its manufactured goods to the region, China in recent years has emerged as a main trade partner of many Latin American countries.
Beijing now seeks a new model of cooperation that would marshal large investments for infrastructure projects needed to sustain growth in Latin America.
During a tour of the region in May, Chinese Foreign Minister Wang Yi said Beijing intends to invest more in Latin America and raise relations to a new level.
The summit marks the 50th anniversary of the group's founding. It has grown from 77 developing countries to 133 countries.