Argentina questions UPM-Botnia's political influence on Uruguayan government
Tuesday, June 17th 2014 - 07:06 UTC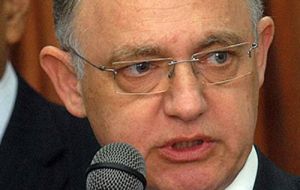 Argentine foreign minister Hector Timerman said that the pulp mill dispute with Uruguay is 'political' and wondered how great is Finland's' Botnia-UPM influence in the country, but at the same time underlined that all chances of dialogue have been 'exhausted'.
"The problem is political: how great is the influence of Botnia-UPM in Uruguay" said Timerman in reference to the latest dispute following the Uruguayan government decision authorizing the pulp mill to increase its annual production and which triggered the current situation.
Timerman added that Argentina has no problems with Uruguay, but "we believe Botnia-UPM must adjust to all of the River Uruguay statute rulings, which are very clear regarding contamination and that is the responsibility of the Uruguayan government, but we haven't been able to advance at all in this field in the last four years".
The minister pointed out that Argentina had exhausted all possibilities of continuing with dialogue, "mainly because of the unilateral brash decision by Uruguay authorizing the increase of production with no previous notice".
"The news took the government of President Cristina Fernandez by surprise and strangely enough happened one or two days following the visit of an important Finnish minister to Montevideo where he met with top authorities. This is also really surprising", said Timerman.
He added that Uruguayan authorities have repeatedly denied information on the UPM-Botnia situation. Access to the plant is very strict and inspectors are prevented from random visits. "Any such visit must be advanced with an anticipation of 10 to 15 days".
"We will take all the necessary measures we consider we must take given this situation", concluded Timerman.
Uruguayan authorities insist they informed the Argentine government of the production increase authorization and the higher environmental conditions imposed on the pulp mill.
Argentina reacted to the production increase announcement describing it as "an unfriendly act" and anticipated it would take the case again to the International Court of The Hague, plus 'reassess' all bilateral relations at all levels.