Ambassador Castro on an official visit to Ulster; McGuinness said he supports "Argentina" in the Cup
Thursday, June 19th 2014 - 01:43 UTC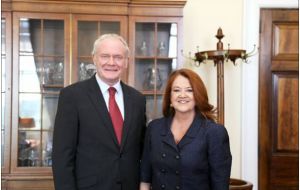 The Argentine Ambassador to the United Kingdom, Alicia Castro made an official visit to Northern Ireland where she was received by Deputy First Minister Martin McGuinness. They agreed on stressing the importance of dialogue and called for ties between both parties to be strengthened.
"The peoples of Argentina and Ireland share a rich common past; our country is home to the largest community of Irish descendents in Latin America; we are working to strengthen these ties and develop cooperation mechanisms to benefit both peoples", the Ambassador stated.
Alicia Castro and Martin McGuinness went through their respective national and regional agendas, looked into the major challenges of the current global state of affairs, and the need to cooperate with a multi-polar order to guarantee world peace, according to the official release from the Argentine embassy in London.
The release added that "McGuinness, the Sinn Féin party leader, expressed his party's support for Argentina's legitimate rights over the Malvinas Islands".
At the meeting, McGuinness spoke about the current political situation in Northern Ireland and outlined to the Argentine Ambassador the progress made since the Good Friday Agreement signed in 1998.
The Argentine Ambassador's official visit included a working meeting with the Speaker of the Northern Ireland Assembly, William Hay. They agreed on the importance of promoting closer collaboration between lawmakers and coordinated visits for members of parliament to Buenos Aires and Belfast.
Alongside the political agenda, the Embassy's team held meetings with representatives from the local business community regarding investment opportunities in Argentina.
Bringing the meeting to a close, Martin McGuinness, a football fan, said that he is "supporting" Argentina in the World Cup.