Argentine Navy receives refurbished TR1700 class submarine ARA San Juan
Thursday, June 19th 2014 - 02:43 UTC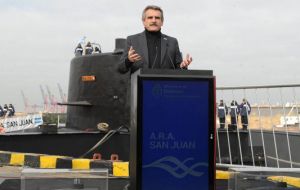 The Argentine Navy took re-delivery of TR-1700 class submarine ARA San Juan last month after the boat underwent a mid-life update (MLU) program at the Argentine Naval Industrial Complex CINAR.
According to Minister of Defense Agustin Rossi, the MLU cost some 100 million Argentine Pesos (12.4 million dollars) and comprised more than 500,000 work hours in which the boat was cut in half and had its four MTU engines and batteries replaced. The MLU was under way at CINAR since August 2007. He blamed the delay on the lack of funds and qualified labor.
Rossi called the re-delivery an important milestone for Argentina, as the state had lost its ability to repair submarines following the previous Domecq Garcia shipyards being disbanded.
The refurbishing included the torpedo tubes, the hydraulic and electric systems, new navigation equipment, radar and periscope.
The TR1700 San Juan has a 2.100 tons displacement and makes 15 knots on surface and 25 knots submerged. It has a 30 days autonomy, six torpedo launchers, can carry 22 torpedoes and carries a crew of 37.
With the latest reincorporation the Argentine submarine operational force based in Mar del Plata naval compound has three units, two TR1700, ARA San Juan and ARA Santa Cruz and one U209 ARA Salta. There is still a fourth TR1700 unit ARA Santa Fe, half assembled in Argentina but since the eighties frozen because of lack of funds.
The Argentine Navy has plans to convert the ARA Santa Fe into a test nuclear powered submersible by equipping it with an Argentine designed CAREM reactor, but this seems far into the future.
In related news it was reported that ARA Santa Cruz which was heading to the CINAR yards run aground close to the port of Buenos Aires when two tugs were pulling it. However a third tug helped rescue the submarine and its 40 member crew and finally arrived to its destination.