Rousseff-Temer make official their re-election bid for 5 October
Monday, June 23rd 2014 - 03:52 UTC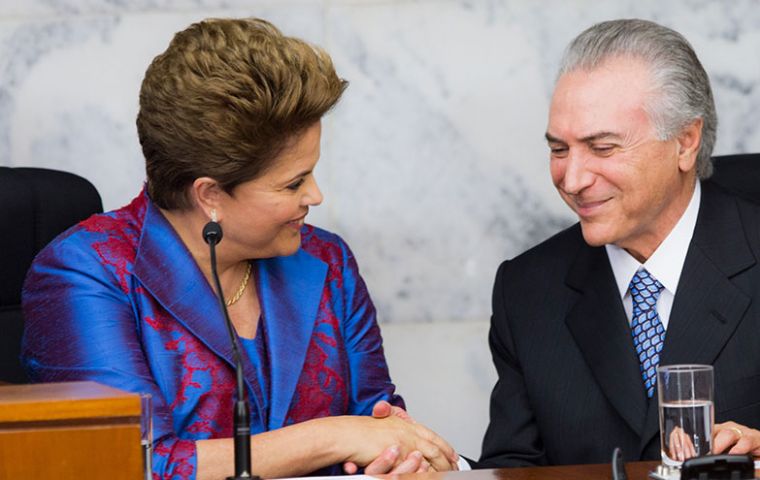 The ruling Workers Party, or PT, Latin America's largest political force of the left that has governed Brazil since 2003, proclaimed Saturday at its national convention the candidacy of President Dilma Rousseff for a second term in the coming Oct. 5 elections.
Also confirmed at the convention was the alliance with the Brazilian Democratic Movement (PMDB) and the candidacy of Michel Temer for reelection as vice president on the ballot with the head of state.
The alliance was approved two weeks ago by the center-right PMDB, Brazil's largest political party and chief ally of the PT in the ruling coalition.
At the meeting held in Brasilia, Rousseff and Temer were backed by ex-President Lula da Silva, national PT leader Rui Falcao, as well as leaders of allied parties, several former ministers, dozens of lawmakers, governors, mayors and regional politicos.
Rousseff's candidacy was considered a done deal for several months by the PT but until now was never formalized, which in recent months allowed a movement to arise within the party seeking to nominate ex-President Lula (2003-2020) for the position.
During the convention, Falcao again stressed the need to implement a "reform of the current electoral system" and the "democratization of the media," which, he said, "the oligarchs try to characterize as censorship."
Though Rousseff continues to top the surveys of voter preference by a wide margin, the head of state has been losing ground and the latest polls indicate there is no longer any guarantee she can be reelected without a runoff, required when none of the candidates obtains more than half the votes.
According to an Ibope Institute poll, if the elections were held today, Rousseff would get 39% of the vote, compared with 21% for Senator Aecio Neves, whose nomination was announced last Saturday by the opposition Brazilian Social Democracy Party (PSDB), while 10% would go to the former governor of Pernambuco, Eduardo Campos, candidate of the Brazilian Socialist Party (PSB).
According to the study, Rousseff and Neves would have to go to a runoff, in which the head of state would be reelected with 43% of the vote, compared with 30% for the PSDB candidate.