Royal Navy's first ever remotely-piloted air system takes flight
Monday, June 23rd 2014 - 21:53 UTC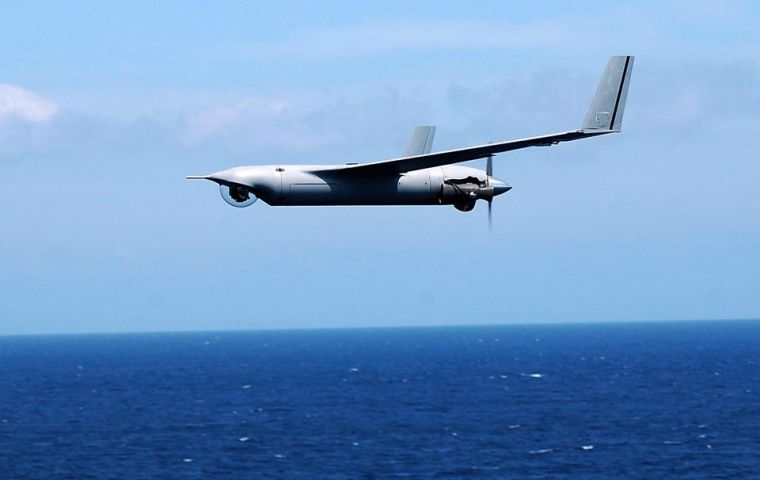 Just 7 months after the British Ministry of Defense ordered the system from Boeing Defense UK, footage released today, 22 June, shows ScanEagle taking flight from HMS Somerset in the Gulf.
The system, which can be launched by a pneumatic catapult from Royal Navy and Royal Fleet Auxiliary vessels, is unarmed and uses for real-time intelligence-gathering and reconnaissance only.
Pilots in a specialist team on board the ship plan ScanEagle's missions and control its flight. Once its mission is over it returns to the ship where the information, gathered by its state-of-the art sensors, is then monitored and analyzed.
ScanEagle comes with many features beneficial to the Royal Navy including flying at speeds of up to 80 knots and staying airborne for around 10 hours, covering areas of around 60 miles from launch.
The multi-million-pound capability can also be used both in the day and at night thanks to a high resolution camera which can see in the dark and when there is poor visibility.
Defence Secretary Philip Hammond said it was the first time that an unmanned air system on maritime operations had been tested, heralding a new era of aviation and intelligence-gathering in the Royal Navy.
"ScanEagle will play a crucial role in operations and humanitarian missions not only in the Gulf but also on Royal Navy vessels right across the globe, further underlining our commitment to invest in innovative capabilities", added Hammond.
Commander Mike Smith, commanding officer of HMS Somerset said: "ScanEagle provides us with a game-changing, persistent surveillance and reconnaissance capability, supplementing our Lynx aircraft so that it can be held for higher priority missions.
"The ability to fly ScanEagle for extremely long periods of time extends the eyes and ears of the ship way beyond that we can currently achieve.
"It's been an exciting project to be involved in and the system's arrival will fundamentally change the way we operate, making HMS Somerset more effective right across the diverse range of operational roles we can perform; be that counter-piracy, counter-narcotics, disaster relief or war-fighting".