Argentina praises international support and confirms payment to Paris Club
Friday, June 27th 2014 - 07:30 UTC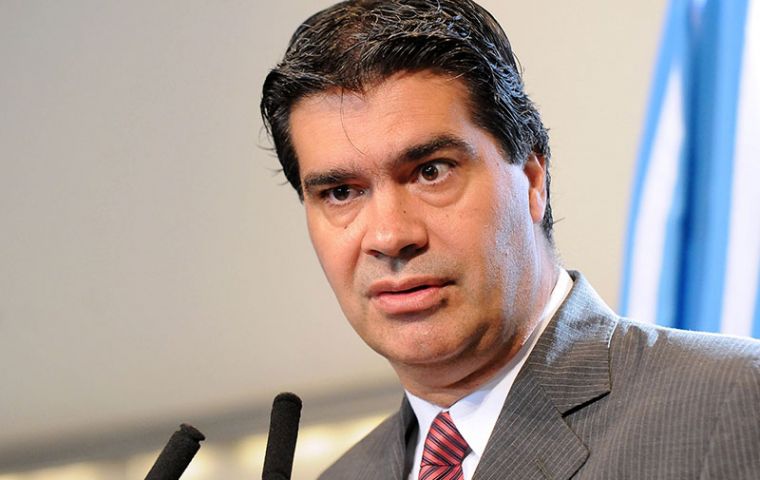 Cabinet Chief Jorge Capitanich praised the "clear, categorical and broad" support for Argentina's stance in its dispute with speculative funds' holdouts from 133 countries from the UN system and specialized international media, and also confirmed that next month it will make the first payment of the agreement reached with the Paris Club.
"Argentina has reason on its side," said Capitanich. "We have seen support from countries that are near, Mercosur and Unasur, but also from 133 countries from the international community" Capitanich argued in his daily press briefing at Government House.
He also mentioned articles published in specialized magazines and newspapers that he said describe US rulings on Argentina's debt as "extortive".
Capitanich denied the Argentine government had had any contact with US President Barack Obama regarding the holdouts' case but stressed that the rulings that favored the holdout hedge funds "have global and systemic significance".
Capitanich said "no government can exclude itself from a debate with global implications".
"Since there is no global mechanism for debt restructuring, it is essential to define on what the percentage is needed for an agreement with creditors," he said and reiterated that the holdout hedge funds are only 1% of the country's creditors, after the government reached an agreement with 92.4% of them.
"They are a tiny minority imposing on a majority through a NY Judge's ruling," Capitanich stressed.
Asked about the effect of the adverse US rulings in the previous deal with Paris Club creditors and foreign investment, the Cabinet Chief rejected any negative impact.
Capitanich confirmed payment to Paris Club creditors will be made in July, as agreed and said that foreign investments will continue as planned.