UK Europe minister expected in Gibraltar to witness first hand delays at border crossing to Spain
Saturday, June 28th 2014 - 01:46 UTC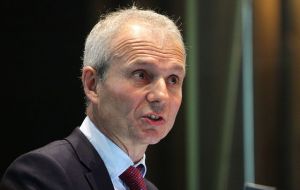 The Minister for Europe, David Lidington, will visit Gibraltar on Monday 30 June and Tuesday 1 July. The visit will enable the Minister to visit the Gibraltar-Spain border to witness first-hand the continuing delays at the crossing, to hold discussions with HM Government of Gibraltar, and to meet a wide range of the people of Gibraltar.
The Minister for Europe's visit comes in advance of a return by the European Commission to review progress on improving congestion at the border. The Commission's return visit follows concerted lobbying by the UK Government.
The Minister for Europe said he was delighted to have the opportunity to visit Gibraltar again. "I look forward to observing some of the initiatives being undertaken by the Government of Gibraltar and to meeting a wide range of people on the rock, who together contribute to a vibrant and prosperous Gibraltar".
The Minister for Europe will meet the Chief Minister and Deputy Chief Minister reflecting a strong relationship which has seen the UK Government and HM Government of Gibraltar working in lockstep to tackle Spanish pressure over the past year.
The Minister will also take a tour on the waters with the Gibraltar Squadron to allow him to see the work of the Royal Navy upholding British sovereignty of Gibraltar's waters.