Uruguay ratifies Bolivia's Mercosur incorporation; consolidates Atlantic/Pacific corridor
Monday, June 30th 2014 - 06:44 UTC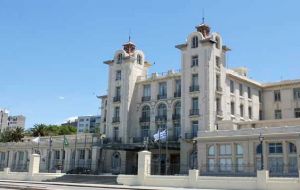 Uruguay promulgated the bill which incorporates Bolivia as the latest member of Mercosur, the South American group made up of Argentina, Brazil, Paraguay, Uruguay and Venezuela. The incorporation of Bolivia should help with the consolidation of a Mercosur Atlantic-Pacific corridor across South America.
The incorporation will promote the reduction of "asymmetries" among members of Mercosur states to favor "a balanced economic development" and ensure "reciprocal free trade" from the moment the accord becomes effective, reads the document.
Bolivia on its side must gradually adopt the norms and regulations of Mercosur for which it has a four year grace period following its formal incorporation to the group.
Bolivia has been an associate member of Mercosur since 1997. Its full member incorporation process took off on 7 December 2012, following the signature of the 2012 Brasilia protocol.
Currently Bolivia is active in Mercosur as a member in the process of incorporation with right of word but not to vote. For Bolivia's full integration all legislatives of Mercosur members must approve the ratification, which so far has only been complied by Uruguay and Venezuela.
According to official stats, Bolivia has 72% of borders with Mercosur member-countries and an estimated 1.2 million Bolivians live in Mercosur countries. Besides 820.000 people or 8.2% of total population live along the borders of Argentina, Brazil and Paraguay.
Mercosur absorbs 55% of Bolivia's exports particularly natural gas to Brazil and Argentina.
The incorporation of Bolivia as full member of Mercosur is expected to consolidate the Atlantic/Pacific oceans corridor supported by the water-way of the mighty rivers Paraná and Uruguay, which reach the heartland of South America.