Holdout hedge funds claim Argentina never turned up to negotiate a settlement
Tuesday, July 1st 2014 - 14:59 UTC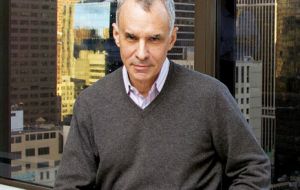 Holdout investors involved in litigation with Argentina over sovereign debt said on Monday they have not met with the government to negotiate a settlement on defaulted debt, and accused Buenos Aires of refusing to enter talks as a 30-day countdown to default begins.
Holdout investors are led by Elliott Management's NML Capital Ltd and Aurelius Capital Management, two hedge funds that specialize in buying up deeply discounted or distressed debt and negotiating profitable settlements, often through the use of the courts.
"Argentina's professed willingness to negotiate with its creditors has proven to be just another broken promise. NML is at the table, ready to talk, but Argentina has refused to negotiate any aspect of this dispute," said Jay Newman, senior portfolio manager at Elliott Management.
"We sincerely hope it reconsiders this dead-end path," Newman said, noting there have been no negotiations so far and the government has refused to commit to negotiations in the future.
Argentina late on Monday said it would send a delegation to New York to meet on July 7 with court-appointed mediator Daniel Pollack. It made no mention of whether it would sit down with the holdouts.
"Argentina is reiterating its desire to negotiate according to just, equitable and legal conditions that take into account the interests of 100 percent of creditors," the economy ministry said in a statement.
In 2012, U.S. District Judge Thomas Griesa in New York awarded the holdouts 1.33 billion dollars plus accrued interest in a case based upon the pari passu, or equal treatment, clause used to sell the bonds originally in 1994.