Brazilian industry contracts for the third month running in May
Thursday, July 3rd 2014 - 06:40 UTC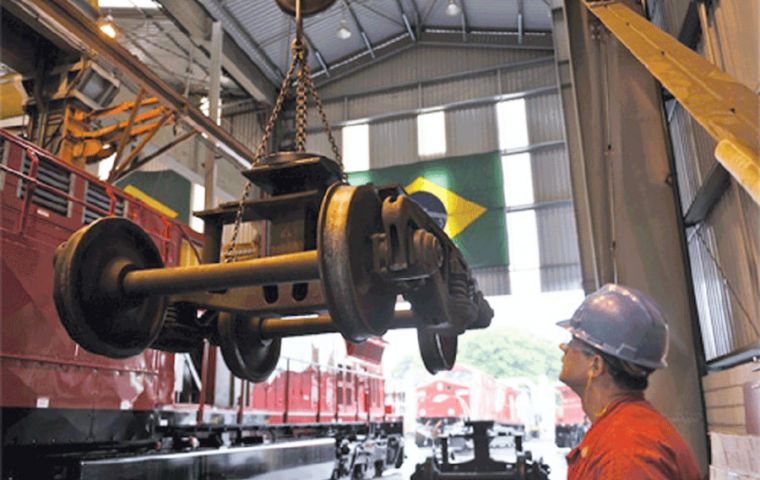 Brazilian industrial output fell for the third straight month in May despite efforts from government to prop manufacturing through stimulus measures. Industrial production in Brazil fell 0.6% in May from April, and 3.2% from the same month a year ago, and 1.6% in the five months of 2014, government statistics agency IBGE said on Wednesday.
The number represents a further step back for Brazilian industry following April's 0.5% decline, revised downward on Wednesday from a previously reported 0.3% drop, and March's 0.5% fall. It was the first time Brazilian industry retreated for three straight months since late 2011.
Brazilian manufacturing has remained largely unresponsive to a string of more than two dozen government stimulus initiatives launched over the last three years as it struggles with fierce competition from abroad, high tax and labor costs, and poor infrastructure.
The recent industrial downturn has already cost nearly 30,000 manufacturing jobs in May according to government data, while business confidence is at the lowest in five years and high inflation remains a headache.
Capital goods production fell 2.6% in May from April, the third straight monthly decline, while intermediate goods such as textiles and chemicals retreated 0.9%. Durable consumer goods such as furniture and home appliances sank 3.6%.
One bright spot in May's numbers was semi- and non-durable consumer goods such as footwear and food products, which rose 1%.
Industrial production is expected to shrink 0.14% in 2014 with Brazil's economy as a whole growing just 1.1%, according to a weekly central bank poll of about 100 economists.
A private survey on Monday showed Brazil's manufacturing shrank at the fastest pace in 11 months in June.
Of the 24 industrial sectors surveyed by IBGE, 15 shrank in May from April, including petroleum derivatives (down 3.8%), vehicle parts and motors (3.9%), metals (4%) and electronics (5%). On the bright side mining was up 1.4%; food, 1% and tobacco, 1.85%.