US bank caught in bonds litigation requests guidance from Judge Griesa
Thursday, July 3rd 2014 - 06:57 UTC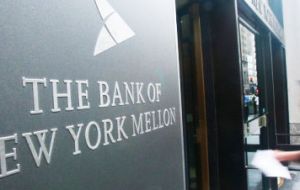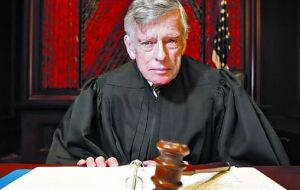 The Bank of New York Mellon, fearful of being sued by Argentine bondholders and unwilling to defy a court order blocking their coupon payments, is seeking guidance from U.S. Judge Thomas Griesa on what to do with the money.
"Following an exchange of letters today, the court asked BNY Mellon to make a formal motion asking for clarification on what actions it should take with the money that the government deposited in its account at the Central Bank of Argentina last week," said on Wednesday a source with direct knowledge of the situation.
"The bank is asking Griesa, essentially, how it can get from point A to point B without being sued." The motion needs to be filed by July 8.
BNY Mellon received a deposit of 539 million dollars on June 26 in defiance of Griesa's order that said the Argentine government had to pay bondholders who accepted sovereign debt restructurings in 2005 and 2010 at the same time it paid investors who held out from the exchanges and won a court-awarded 1.33 billion plus accrued interest.
Argentina has until the end of July to strike a deal with the holdouts. If it fails, the country risks tumbling into its second sovereign debt crisis in 12 years. The government wants the payment it made unfrozen as a condition for negotiating.
Griesa, in a hearing on June 27, said the money should be returned to Argentina, "simple as that," but gave no instructions.
BNY Mellon, the world's largest custody bank, has told Griesa it has done nothing with the money because it is following his orders and will maintain the status quo, thereby leaving the cash in limbo.
Holdout investor Aurelius Capital Management asked Griesa on Wednesday to file an order directing BNY Mellon to return the money to Argentina. Aurelius and Elliott Management Corp are two hedge funds that specialize in buying up deeply discounted or distressed debt and negotiating profitable settlements, often through the use of the courts. Their case was upheld on appeal.
BNY Mellon sent a letter to the judge saying it cannot return the money without wire transfer orders from Argentina. The government claims the cash now belongs to holders of its restructured bonds.
The source said BNY Mellon was being threatened with lawsuits by holders of Euro-denominated Argentine bonds for not making the required payment that was originally due June 30.
This set of investors contend their bonds are governed by laws of England and Wales and at no point are payments processed through the United States or in U.S. dollars and therefore should not be subject to Griesa's jurisdiction.
Griesa denied this group a request for exemption from the injunction on June 27, saying Argentina submitted to the jurisdiction of the court when it originally sold the bonds and therefore, so would its payments.