Falklands' praise for Cobos' visit: 'at least he will have a better understanding of the Islands'
Friday, July 4th 2014 - 07:17 UTC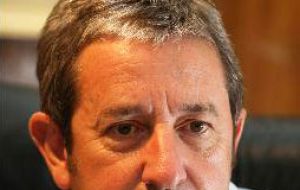 The former Argentine vice-president and presidential hopeful Julio Cleto Cobos who visited the Falklands this week will at least have a better understanding of the Islands commented Member of Legislative Assembly Phyl Rendell on behalf of the Assembly Thursday.
MLA Rendell confirmed to Penguin News that FIG, "has not had an official approach from Mr Cobos, who in spite of his social media activity, maintains he is here on a personal visit as an Argentine citizen paying respects to the war dead."
Consistent with this policy when invited to an interview with Penguin News, Mr. Cobos politely declined.
When asked if MLAs felt his trip indicated any change of tack in terms of a future government's approach to the Falklands dispute Mrs. Rendell said: "We don't believe that Mr. Cobo's trip is indicative of a change in thought in Argentina, but at the very least Mr. Cobos will return to Argentina with a better understanding of the reality of the Falkland Islands, which is vastly different from the rhetoric he has been hearing for many years."
Mr. Cobos trip has been widely condemned in Argentina by the current ruling party and 1982 war veterans; there was particular anger that Mr. Cobos' visit meant his passport was stamped with the Falkland Islands passport stamp.
Mrs. Rendell described the negative response as disappointing, but consistent with previous Argentine actions and opinions. "They are afraid of people seeing the Islands for what they really are, and understanding the difference between propaganda and reality. We hope Mr. Cobos will return to Argentina better-informed about the Islands, despite his reluctance to engage with people here."
An article in MercoPress yesterday did however describe some positive reactions to the visit. Included was that of Columnist Fernando González from Cronista Comercial who thought it would be enriching to be able to talk to Islanders. He said Argentina needed a state policy on the Islands but, "how can you design such a policy on a territory of which all that is known is via maps, history books and patriotic songs."
He praised Mr Cobos, saying more human exchanges were needed and all presidential hopefuls should visit, concluding: "It is possible that there they might find the answers that for so long we have been looking." (PN).-