Tragic overpass collapse resurfaces Brazil's World Cup spending controversy
Friday, July 4th 2014 - 07:00 UTC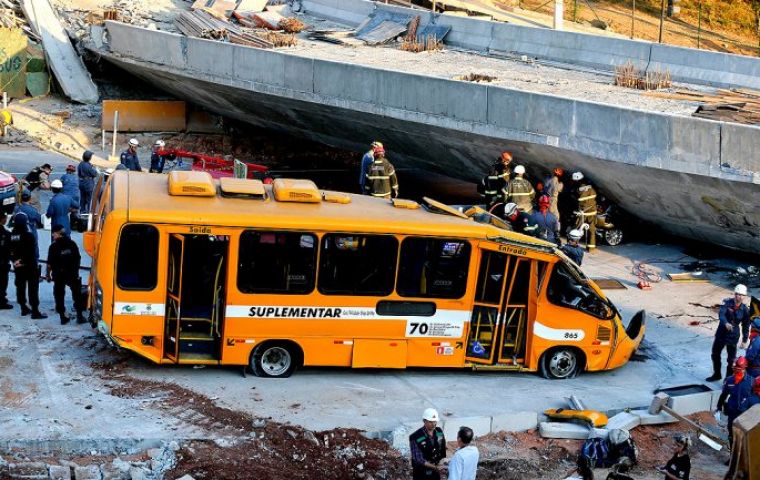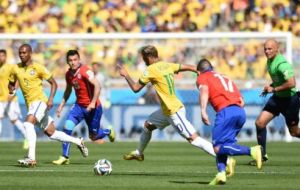 Concerns over Brazil's World Cup preparations took a deadly turn on Thursday after a partially finished highway overpass collapsed on a road below, killing at least two people and wounding at least 23 others in Belo Horizonte, according to state health officials.
The overpass, near one of the stadiums hosting tournament games, was part of a package of urban mobility projects meant to give Brazil's transportation infrastructure an overhaul ahead of the World Cup. But like many of the country's planned transportation projects, it fell behind schedule and was still under construction when it fell.
Television news showed vivid images of a yellow bus, its front end flattened under the massive concrete overpass.
"We are profoundly sad. We are grieving. Certainly in the future we will find that there was some error of engineering or some error of construction. But that is for the future," Marcio Lacerda, the mayor of Belo Horizonte, said in a television interview.
Brazilian President Dilma Rousseff expressed her condolences via her Twitter account. "It was with sadness that I found out about the collapse of the viaduct in Belo Horizonte," Ms. Rousseff wrote. "At this moment of pain, I offer my solidarity to the families of the victims."
Brazil's 11.5 billion dollars in spending for the World Cup became a flash point for controversy during mass protests in June of last year, when around one million Brazilians took to the streets to demonstrate against perceived excessive spending on stadiums while needs such as health care and education were going unmet. Delays and failures to complete promised transportation projects such as trains and subways added to the perception that spending on the World Cup wouldn't leave a lasting legacy.
The overpass that collapsed was part of a project to speed bus traffic between Belo Horizonte's two airports and was meant to be finished by the World Cup. The city's Estadio Mineirão has hosted five soccer matches so far, including Brazil's defeat of Chile last Saturday. A sixth match, one of the semifinal games, is scheduled there for Tuesday.
Mr. Lacerda said the construction company responsible for the project, Construtora Cowan SA, was cooperating with rescue and recovery efforts.
In a statement, the company said it "deeply regrets" the collapse of the overpass. "At this time, the priority is support for the victims and their relatives," it said, adding that a team was already at the scene to begin an investigation.
Before Thursday's deadly collapse, Brazil's troubled run-up to the Cup had already become a political liability for Ms. Rousseff, who is seeking re-election this year. During her first term, Ms. Rousseff has sought to position herself as an efficient manager of large-scale infrastructure projects that could boost Brazil's economy.
But construction of airports, roads and other projects promised ahead of the Cup that would also benefit development in Brazil became hampered by bureaucratic squabbles, allegations of corruption and other obstacles.
Furthermore FIFA, organizer of the World Cup and partner of Brazil in the much questioned preparations only recently bragged about the competition's success and the infrastructure , incomplete but still up to standards and the challenge of so many fans.