Moody's confirms Peru as one of South America's strongest economy
Saturday, July 5th 2014 - 09:32 UTC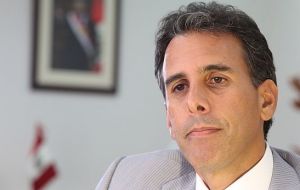 Peru's sustained macroeconomic performance has been recognized through the recently announced upgrade to A3 of its sovereign debt by Moody's Investors Service. According to the credit rating agency, Peru' government debt was lifted two notches to A3 from Baa2, with a stable outlook for the economy.
Peruvian Production Minister Piero Ghezzi, said the credit rating upgrading reflects the country's solid macroeconomic performance, strong growth rates, low inflation, falling debt, fiscal surpluses and large international reserves.
"Peru has a financial system that is really prepared to cushion any international shock" said Ghezzi.
He stressed Peru becomes the third nation in Latin America to earn the coveted "A" grade sovereign rating after Chile and Mexico.
Moody's Investors Service pointed out the falling debt and reduced dependence on metal exports as one of the main reasons for its decision but also the improvement in the government's balance sheet as well as expectations for faster growth and the impact of initiatives to bolster competitiveness.
Ghezzi also pointed out that Peru had become one of the countries with "the lowest credit risk in the world".
Moody's also raised the credit rating of several Peruvian private banks.
The upgrading reached Banco de Credito del Peru and Scotiabank Peru, which saw their rating increase from Baa2 to Baa1 for long-term local and foreign currency deposit ratings.
Likewise Moody's upgraded the long term local and foreign currency deposit ratings of Banco Internacional del Peru S.A.A., to Baa2 from Baa3, and raised its short term local and foreign currency deposit ratings to Prime-2 from Prime-3.
The government owned Corporacion Financiera de Desarrollo S.A. also benefited and was upgraded to Baa2 from Baa3, for the long-term local and foreign currency issuer ratings with a stable outlook.
Peru's economy will probably expand by about 5% this year before growing about 6% in 2015 and 2016, with an average 6.3% in the last decade, the fastest in South America. The country also posted a fiscal surplus last year even as economic growth slowed to 5.8% and prices for commodity exports slumped.
The ratings company also said that the average maturity of Peru's government debt will probably remain high, helping to ensure the government's financing needs are "relatively low."