Sao Paulo metro will have 'ladies only' wagons given sexual harassment complaints
Monday, July 7th 2014 - 23:53 UTC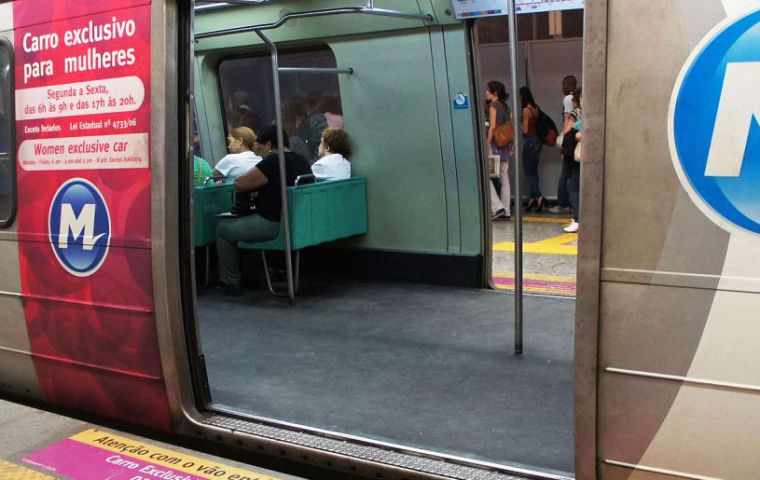 The Sao Paulo Legislative Assembly has approved a bill making it mandatory for regional train and underground companies of have 'pink' wagons, exclusively for ladies at rush hours.
The measure was first approved in Rio do Janeiro back in2006 given the complaints from women passengers that men taking advantage of the crowded coaches would grope the ladies.
So far this year 33 men have been arrested following sexual harassment claims of lady passengers in the Sao Paulo metro. However the 'pink wagons' will not run on holidays or weekends, when the number of passengers is considerably less.
The bill has now to be signed by Sao Paulo mayor Geraldo Alckmin and later the metropolitan train companies will have 90 days to implement the 'only ladies' car measure.
In April 2006 the Rio do Janeiro Metro implemented the mandate established by state law. For trains with six passenger cars, one subway car is marked with pink colors as exclusive for women, and the women-only restriction applies from Monday through Friday during the rush hours, between 6:00 and 9:00 and between 17:00 and 20:00.
There is metro police enforcement to prevent men from boarding the dedicated passenger car, and the platform has a sign on the floor indicating the boarding point for women-only cars.
Apparently a similar policy was implemented at Sao Paulo Metro between October 1995 and September 1997, but the metropolitan trains company (CPTM) decided not to continue after some complaints by married couples and to avoid any possible contravention of article 5 of the Brazilian Constitution, that guarantees equality among citizens.
However things seem to have changed radically since almost two decades ago.
It is estimated that 3.3 million commuters use the metro system in Sao Paulo which has 75 kilometers and 65 stations.