World Cup tickets resale and investigation becomes major scandal for FIFA
Monday, July 7th 2014 - 06:50 UTC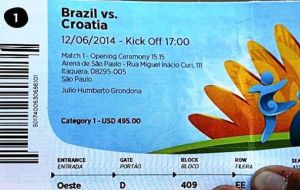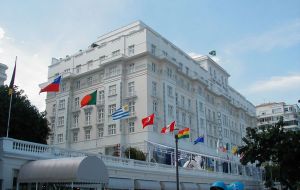 World football governing body FIFA has revealed that the son of Argentina Football Association (AFA) president Julio Grondona, Humberto, must present a report explaining his actions following a scandal over the resale of tickets at the 2014 World Cup.
Both Grondona and tourism agency Match Hospitality have been obliged clarify events by the entity.
The son of the FIFA vice-president admitted in a television interview having sold "some tickets" given to him as a courtesy to a friend. Those same passes later appeared on the black market.
An Argentine journalist later published on twitter a photo of a ticket that had the name "Humberto Mario Grondona" printed on the face, assuring that a friend had purchased it for 220 dollars.
FIFA claims it has tracked 141 tickets handed over by police authorities, in the middle of a touting scandal at the tournament which has led to several arrests. Some of those were sold by agencies which had bought blocks of tickets from Match Hospitality, an official FIFA distributor.
The governing body clarified in a statement released Sunday that Grondona's tickets were not among those confiscated by police and explained that no official or worker was under suspicion nor would be questioned over the scandal.
However Brazilian police who are investigating ticket scalping at the World Cup are alleging "someone from FIFA" was the source of tickets being resold for many times the face value.
Rio police Inspector Fabio Barucke had anticipated that the person under investigation was staying at Rio's Copacabana Palace Hotel, where some of FIFA's highly-ranked officials and MATCH Hospitality — which holds the rights to the World Cup hospitality program — are based.
Barucke confirmed 11 people were arrested earlier in the week, including Mohamadou Lamine Fofana, an Algerian man previously thought to be the ringleader of the scalping operation. Barucke said more arrests are possible.
Barucke described Fofana, who had free access to FIFA-restricted areas including the hotel, as a "middleman" and suggested the ticket source was "someone higher up" the chain. He did not give details of the person under investigation.
"He (Lamine Fofana) has tickets from hospitality, from MATCH, and he was close friends with someone from FIFA who was in the middle of that negotiation — who was helping out with that negotiation," he said. "We were able to identify there is the participation of someone from FIFA."
Barucke said investigators were working with FIFA, although FIFA spokeswoman Delia Fischer said football's international governing body was still awaiting information from the police.
"Maybe this person is not FIFA," she said. "We need to wait."
Barucke has said the scalping ring made $455,000 (U.S.) per game and that it used three Rio de Janeiro travel agencies "that sold the tickets at well above their face value."
Reselling tickets at more than face value is illegal in Brazil.
Barucke said Fofana had a relationship with football players, and was living in an apartment in Rio rented for a month from former Brazilian national team player Junior Biano. Barucke said there was no evidence Biano was involved in wrongdoing.