FIFA hospitality's provider arrested over World Cup tickets scalping
Tuesday, July 8th 2014 - 07:01 UTC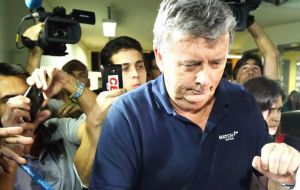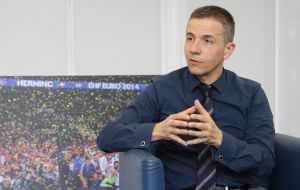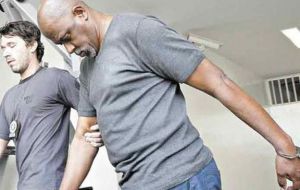 Rio do Janeiro state police said Monday they arrested the head of the soccer world governing body's hospitality provider, accusing him of aiding scalpers who illegally resold World Cup tickets worth an estimated 100 million dollars.
Police said they detained Raymond Whelan, director of Zurich-based Match Hospitality AG—a company appointed by the world body, FIFA, to sell hospitality packages for all World Cup soccer games—to prevent him from leaving the country.
Mr. Whelan, identified by police as a 64-year-old British citizen, was taken into custody at Rio's luxurious oceanfront Copacabana Palace hotel and was being held at a police station, said a police spokesman.
In a statement issued Monday, Match said it conducted an internal investigation into scalping and had identified three of its corporate customers through which it said the tickets had appeared to flow. Match said it would block the packages of those three companies. Match made no mention of Mr. Whelan.
Match Hospitality provides deluxe packages to high-end football customers and was allocated 445,500 of the 3 million purchasable tickets for the 2014 World Cup, according to FIFA. One of its shareholder companies is owned by Philippe Blatter, the nephew of FIFA president Sepp Blatter.
FIFA has vowed to clamp down on corruption in soccer, and in 2012 hired a U.S. prosecutor to investigate allegations including that Qatar's bid for the 2022 World Cup was "improperly influenced." But the prosecutor's report is pending, and FIFA has declined to say whether Qatar could be stripped of its right to host the event.
Mr. Whelan's arrest follows those of 11 other suspects last week by Brazilian police on charges of illegally reselling tickets to World Cup matches.
Among those arrested was Mohamadou Lamine Fofana, an Algerian national and owner of Atlanta Sportif Management, a sports management company. Most of the other people charged were Brazil-based ticket scalpers, police said.
Police last week said that Mr. Fofana had direct access to officials connected to FIFA.
Police investigator Vicente Barroso said Monday that authorities had documented some 900 communications between Mr. Whelan and Mr. Fofana, who police suspect of being the ring leader in the alleged ticket-scalping operation. Mr. Fofana would call Mr. Whelan when he needed tickets and then pick them up at the Copacabana Palace, Mr. Barroso said.
"Whelan was a facilitator to the gang to have access and to sell the tickets, given that Match provides services for FIFA," police said.
Mr. Whelan, whose passport has been confiscated by police, has been living in Rio for around two years, Mr. Barroso added.
Rio police said Monday that, in pursuing their investigation, they had asked FIFA to supply a list of local phone numbers that it was using in Brazil, as well as the owners of those numbers, and FIFA did.
Police alleged that the suspects obtained tickets that were intended for sponsors, nongovernmental organizations and national teams. Then the suspects allegedly resold the tickets for several times their face value, netting an estimated 100 million in re-sales, police said.
Police said that members of the alleged ring would contact overseas travel agencies, offering them tourist packages for attending World Cup matches that included accommodation, game tickets and other perks.
FIFA granted Match world-wide exclusive rights to sell ticket and hospitality packages for games the world soccer body sponsors, according to a statement issued Monday by Match.
FIFA and Match have extended their partnership to cover the 2018 and 2022 World Cups, according to a news release on Match's website.
The police investigation has been dubbed "Operation Jules Rimet," a reference to the Frenchman who served as FIFA's third president and is regarded as the World Cup tournament's inventor.