Gibraltar with port fee and re-fuelling discounts to attract cruise business
Wednesday, July 9th 2014 - 08:04 UTC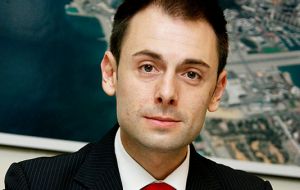 Neil Costa, Gibraltar Minister for Tourism, Commercial Affairs, Public Transport and the Port, has welcomed the introduction of new port fee discounts and said they will further enhance the competitiveness of the Port of Gibraltar.
The incentives include reduced fees for vessels taking on supplies or crew on the east side of the Rock and a discount on port fees for ships that complete re-fuelling operations within their allocated time slot.
The port believes the eastern anchorage will become more attractive as a waiting area for vessels calling at Gibraltar for bunkers and for ships requiring other services.
Costa said the measure will be positive for business as husbandry services generate activity and turn-over for the local shipping industry and will also result in a complete overhaul of the way in which the eastern anchorage is currently used in order to maximize benefits for the maritime sector in Gibraltar.
The reduced fees follow the introduction late last year of new tariffs for off port limits operations following representations from the Gibraltar Port Operators Association.
The recent departure of Gibraltar's floating storage tankers also means there is now anchorage space in the bay for bunker operations.
"The Gibraltar Government is fully aware of the importance of the Port of Gibraltar in the overall performance of our economy," Costa said. He added that "with this in mind, we are always looking at ways of improving the service we give to clients."
"It is my firm view that this new reduction in port fees will add to the attraction of our port and the wide range of professional services that we already deliver as the leading port in the Mediterranean", concluded Costa.