FIFA suspends Nigeria from international competition following Lagos meddling with football affairs
Thursday, July 10th 2014 - 21:43 UTC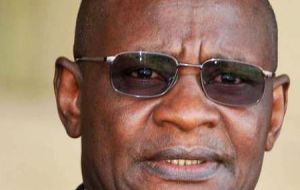 FIFA has suspended Nigeria from international competition after soccer leaders were fired by the government following the team's World Cup exit amid a dispute over player bonuses. The suspension took effect immediately Wednesday, with Nigerian teams and officials barred from international matches and meetings.
FIFA has set a July 15 deadline to resolve the problem, or Nigeria faces exclusion from the Under-20 Women's World Cup that starts in August in Canada.
Nigeria's government ousted the soccer federation leadership and arrested its president Aminu Maigari after he returned from Brazil last week. The government blamed officials for embarrassing the country by not settling the dispute of player payments.
FIFA rules protect its 209 member federations from influence by third parties, including politicians.
The Nigerian government has issued a legal order for the sports ministry to appoint new federation leaders. "The suspension will be lifted once the court actions have been withdrawn," FIFA said.
Nigeria advanced from its group for the first time since the 1998 World Cup, but lost 2-0 to France in the round of 16. Before that game, players rebelled against the federation after not receiving their money for reaching the knockout stage.
Nigeria is also scheduled to begin defending its African Cup of Nations title when qualifying matches start in September. The tournament kicks off next January in Morocco.
Nigeria was also temporarily banned by FIFA after the 2010 World Cup when the country's president Goodluck Jonathan tried to withdraw the team from international competition until it improved.