Argentine Jewish community lash out at the government over 1994 attack
Saturday, July 19th 2014 - 08:00 UTC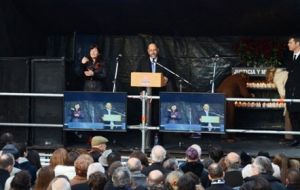 Thomas Saieg, the vice president of the Argentine AMIA Jewish community centre, the target of a terrorist attack which left 85 people killed back on 18 July 1994, demanded on Friday "a new trial as soon as possible to know what happened."
Speaking at the 20th anniversary memorial Saieg urged the government of Cristina Fernandez "to double the international complaints" for the guilty be judged in Argentina. He furthermore criticized the Memorandum of Understanding agreed with Iran to investigate the attack saying it was "unconstitutional" and asked for the annulment of the law which ratified the agreement.
Saieg urged Federal Judge Rodolfo Canicoba Corral to "actively search for the Iranian suspects" and that the arrest warrants are not a mere formality.
"After 20 years we know more about the international connection than about the local one," he added. "We will not allow our cause to be used in any political or electoral dispute," he stressed.
The 20th anniversary memorial took place Friday morning at the Jewish community centre's headquarters in the Once neighborhood of Buenos Aires and began with the sounding of a siren to remember the fatal victims.