"We are Falklands" photo exhibition opened in The Mall Galleries in London
Tuesday, July 22nd 2014 - 21:10 UTC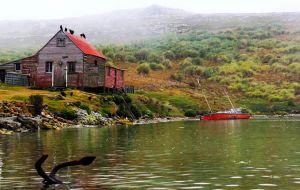 "We Are Falklands" an exhibition collecting works from Falkland Islanders and amateur photographers opened on Monday to the general public at The Mall Galleries in central London.
Falkland Islands Government launched the exhibition which includes 64 pieces of photographic work showing aspects of the nature, wildlife, economy and social identity of the Falkland Islands and its people.
Launched on July 21st, the "We Are Falklands" photographic exhibition runs until July 27 and has already received excellent reviews and chatter on social media.
The event was listed by The Londonist website as number three of the top eleven things to do in London. "We Are Falklands" has also enjoyed coverage through the Daily Mail, BBC and The Guardian newspapers and websites.
Canapés on offer at the launch also gave a real Falklands flavour to the night by including local Toothfish and Kingclip provided by Falklands company Fortuna Ltd.
Organiser of the event FIG Media Manager Krysteen Ormond said: "We are so proud of the exhibition, and the way in which it is being received by the UK public. Many months of hard work from FIG and Pagefield Diplomat have come together into something truly spectacular, which showcases our unique home."
"The exhibition would not have been a success without the participation of all the photographers who entered pictures, the co-operation of Momart, which is a subsidiary of Falkland Islands Holdings plc, and Fortuna Ltd said Ms Ormond.
The exhibition is a brilliant introduction to life on the Islands, and "we hope that a large number of visitors will be tempted to come to the Islands to see our wonderful home for themselves".