Falklands' HMS Illustrious back in Portsmouth for the final time; HMS Ocean to replace her
Wednesday, July 23rd 2014 - 06:30 UTC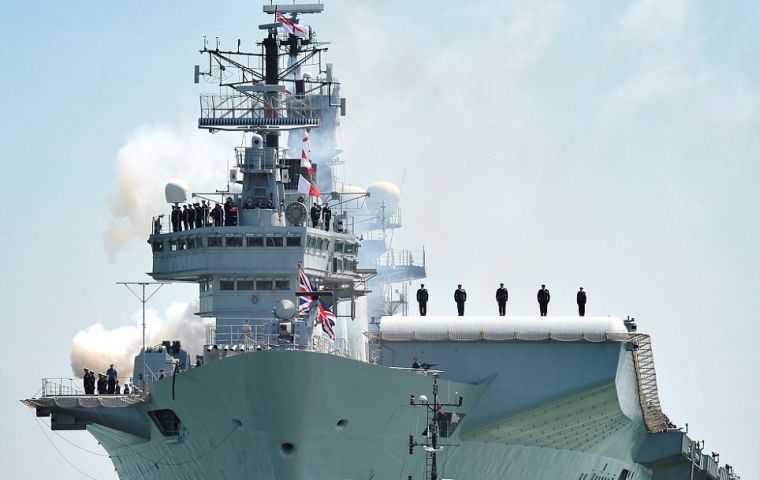 The Royal Navy's helicopter carrier and Falklands' conflict veteran HMS Illustrious has returned to Portsmouth for the final time. Crowds lined the port to welcome the warship, which will retire after 32 years of service. The carrier, which clocked up 898,893 miles on operations, will be replaced by HMS Ocean, which has just received a £65m refit.
The Ministry of Defense has invited tenders from private companies and trusts to secure Illustrious' future.
The ship, carrying its 700-strong crew, gave a gun salute as it arrived at Portsmouth Harbor and military aircraft performed a fly-past.
Vice Admiral Sir Philip Jones said: "HMS Illustrious has a long and proud history with the Royal Navy.
"The decision to replace her in service with HMS Ocean will ensure that the Royal Navy has her most advanced and capable ships working to protect the nation."
Nicknamed Lusty, HMS Illustrious is the last of the Invincible class of aircraft carriers, which included the Ark Royal and Invincible, introduced into the Navy in the 1980s.
Its entry into service was brought forward so it could assist in the Falklands War.
Warrant Officer Steve Barr, 51, from Fareham, served a total of 15 years on HMS Illustrious and was on board when the ship was commissioned on its way to the Falklands and when it was formally commissioned after its return to the UK.
He said: "It was such a good ship that it was commissioned twice, or we like to think so. I've got mixed emotions, it's sad but tinged with the fact that it's retiring and I'm retiring next year."
As well as serving in the Falklands, HMS Illustrious was deployed to conflict zones in Bosnia, Iraq, Sierra Leone and helped aid efforts after Typhoon Haiyan struck the Philippines in December.
The decision to retire the ship was criticized by specialist publishers Warship World, which said the date had been brought forward due to a "manpower crisis" on other ships.
In a statement, the publisher said: "The problem goes back many years when recruiting for the Navy was almost halted, when plans to drastically cut it back in size were announced.
"The serious effects are only now being felt with sufficient well-trained, experienced engineers now being unavailable for sea service. Replacements cannot be trained overnight."
This has been denied by the Navy which said it was an operational decision and part of a long-standing plan. While its sister ships were sold for scrap, the government has indicated that Illustrious could be turned into a floating museum.