HMS Iron Duke on South Atlantic patrol exercises in Ghana and Guinea
Wednesday, July 23rd 2014 - 01:41 UTC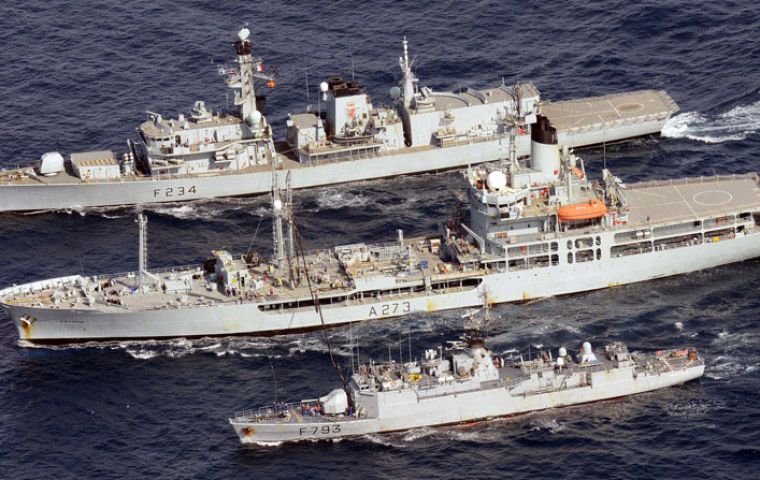 Two British Naval Ships, HMS Iron Duke and RFA Black Rover, on Monday arrived at the Ghana Western Naval Command for a four-day visit, reports Ghana Web. The crew of the ships and the Ghana Navy would conduct joint operational training, sporting and community relations activities.
At a press briefing in Sekondi, Commander Tom Tredray, Commanding Officer of HMS Iron Duke, said the ships were on six-month duty in the Gulf of Guinea and the South Atlantic.
Commander Tredray said the ships were collaborating with the Ghana Navy to ensure maritime security in the Gulf of Guinea in order to promote trade. "Illegal activities like drug trafficking, piracy and armed robbery affect international trade as goods are mostly transported by sea from one country to another".
He added that the sea must be kept free from illegal activities so that law-abiding citizens could carry out their legitimate businesses. To that respect he underlined that the ships would patrol the Gulf of Guinea and hoped their presence would deter illegal activities.
Finally Commander Tredray said the Royal Navy was happy with its collaboration with Ghana and RN ships would continue to visit the country to help strengthen the Ghana Navy.
Before Ghana the two vessels carried out exercises with the French and Guinean Navies off the coast of West Africa. HMS Iron Duke and RFA tanker Black Rover were involved in Officer of the Watch exercise in the Atlantic Ocean with the French frigate Commandant Blaison, two Guinean patrol vessels, and an aircraft from the Guinean Fisheries Protection.
The purpose of the exercise was to develop navigational skills and seamanship and put these into practice following combined maritime patrols.
Captain Nigel Budd, the Commanding Officer of RFA Black Rover, said: "We were delighted to take part in this regional engagement visit to Guinea and participate in exercises. These have served to develop UK/Guinea relations in a wide range of aspects, including defense, training and commerce."
The visit to Guinea by HMS Iron Duke was the first time in 15 years that a Royal Navy warship has visited the country.