Holdouts want to sit down with Argentina and solve the dispute; 'countdown clock'
Wednesday, July 23rd 2014 - 06:42 UTC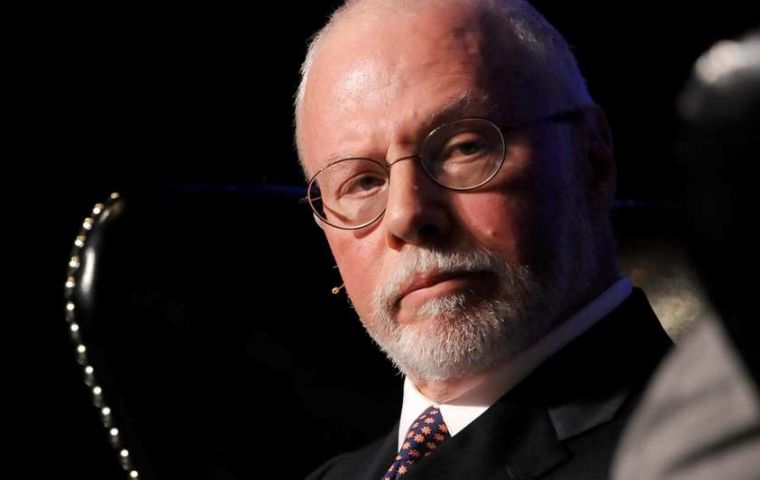 Following on Tuesday's audience with Judge Thomas Griesa, NML Capital the leading speculative fund litigating with Argentina, issued a release saying "it is willing to hold a meeting with 'Special Master' Daniel Pollack and Argentina to solve the dispute".

"We are confident that the issue can be solved quickly if Argentina participates in discussions for an agreement", said the release from NML Capital, belonging to financer Paul Singer.

In related news the American Task Force Argentina, the main lobby in support of the speculative funds holdouts published in its website a clock with the countdown to Argentina's alleged default on 30 July.

The factcheckargentina.org points out: "Countdown for Argentina's default: so many days, hours and minutes left for Argentina to negotiate with creditors or chooses to fall into default".

The 'countdown' went into the air following on Judge Griesa's decision to reject the stay requested by Argentina and to order Argentina "to sit down with holdouts face-to-face and discuss 'round the clock' until an agreement is reached".

Argentina has until 30 July to pay 2005 and 2010 restructured bonds if it is to avoid defaulting. However because of pari passu clause holdouts have to be paid in full plus interests, at the same time as other bondholders.

But if this is implemented, a RUFO clause is triggered which demands equal payment for all bondholders. In this case the RUFO clause would re-open the whole restructuring process involving 120bn dollars according to the Argentine government.