World Bank praise for Peru as one of the most solid economies in the region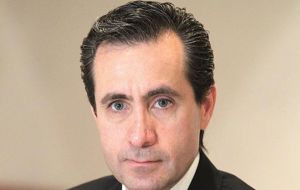 The World Bank's vice president for Latin America and the Caribbean, Jorge Familiar, on Wednesday highlighted Peru's economic growth over the past 10 years. Peru's average economic growth over the period has registered 6. 5% annually, allowing many Peruvians to escape poverty, said Familiar.
The bank envoy, currently in Peru's capital Lima on an official visit, said Peru's economic growth rates indicated the economy was solid enough to withstand the financial fluctuations of the global market.
"The international environment is more complex (and) the Peruvian economy performs better than the average Latin American country," he said.
In Latin America, only the economies of Panama and Chile have fared better, with 10% and 8% average growth, respectively, he said.
Familiar took part in the fifth annual conference organized by Peru's Reserve Central Bank (BCR) and the Reinventing Bretton Woods Committee (RBWC), which was held in the city of Cusco.
The committee, according to its website, is a non-profit organization that promotes dialogue "among high-level stakeholders committed to redefining the global financial architecture to better respond to the changing economic landscape."