Argentina/holdouts will meet again on Friday; "issues remain unresolved"
Friday, July 25th 2014 - 05:36 UTC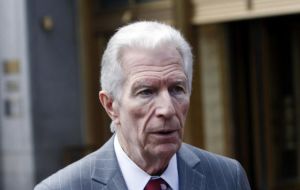 Daniel A. Pollack, the Special Master appointed by Judge Thomas P. Griesa to conduct and preside over settlement negotiations between Argentina and the holdouts from speculative funds said that Thursday's meeting had failed and announced a new audience for Friday at 10:00 in the morning in New York.
Following Thursday's events Pollack's office issued the following statement:
"Representatives of the Republic of Argentina and their lawyers met with me today. Representatives of the Bondholders and their lawyers also met with me today.
After speaking with both sides, separately, I proposed and urged direct, face-to-face talks between the parties.
The representatives of the Bondholders were agreeable to direct talks; the representatives of the Republic declined to engage in direct talks. The issues separating the parties remain unresolved at this time.
The time for the Republic to avoid Default (July 30) is short.
Accordingly, it is my expectation that, consistent with Judge Griesa's direction in open Court earlier this week, there will be further meetings with the parties over the next several days."
Mr. Pollack said that he would have no further public comment at this time. However David Brooks, behalf of Pollack's representation, said that the Special Master will chair a new meeting Friday morning.
As ordered by Judge Griesa, both sides met on Thursday to reach a settlement before next Wednesday. The meeting was originally scheduled for Wednesday, but according to Mr. Pollack, Argentina's defense could not make it in time to the meeting that had been set for 11 am.
On Thursday both parties arrived in the mediator's office on the 27th floor at 245 Park Avenue around 1.30 pm. The Argentine delegation was formed by officials from the Economy Minister: Treasury Procurer Angelina Abbona, Finance Secretary Pablo Lopez and Legal and Administrative Secretary Federico Thea.
Apparently Argentina's lawyers and government negotiators repeated their concerns that cutting a deal might trigger massive claims by other creditors. The hedge funds should provide financial guarantees that would protect Argentina from that risk, or the Judge should suspend his ruling so Argentina can pay its other bondholders while it negotiates, the Argentine Economy Ministry said in a statement.