Cristina Fernandez thanks Mercosur support and again attacked Judge Griesa
Wednesday, July 30th 2014 - 07:10 UTC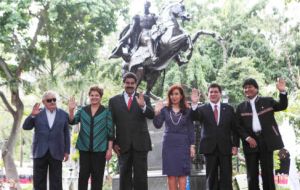 President Cristina Fernández addressed fellow heads of state at the Mercosur summit in Caracas, where she thanked members of the bloc for their support over the ongoing fight with holdout investors in the New York courts and underlined that Argentina "has paid debt obligations religiously".
The Argentine president spoke on Tuesday, just one day before a deadline for payment of debt interest expires for those bondholders who did enter restructuring in 2005 and 2010. Funds directed to those creditors have been blocked by judge Thomas Griesa, on the request of the holdouts or so-called 'vulture funds'.
"I profoundly thank all of the Mercosur members for their solidarity," Cristina remarked as she spoke to the summit, rescheduled from the original date of December 2013.
She pointed out that Argentina had paid debt obligations "religiously" since restructuring bonds defaulted in the economic crisis of 2001, and that it had done so "without entering capital markets, with its own resources... [without] indebting ourselves further to cancel our debts from 2005 onwards".
CFK criticized the conduct of holdouts, asserting that the bonds for which they now demanded 1.6 billion dollars were purchased for just 41 million dollars in the aftermath of default. "Right now the debt swap is open, if they entered they would pick up a profit of 300%," she argued.
The president also strongly dismissed the idea that should Wednesday 30 July deadline pass without progress with Griesa or the 'vultures', Argentina would fall once again into default.
"They try to frighten us by saying if we do not do what they say the 10 plagues of Egypt will be upon us. We have already suffered the 10 plagues, in 2001, when a different government did everything dictated by those outside," she affirmed.
"They are trying to ruffle feathers with a default but it makes no sense, that happens when one does not pay and Argentina has paid".
Cristina Fernandez said that Griesa "is no magistrate" since he has not ruled fairly on the blocking and unblocking of funds deposited by the Argentine government to pay bondholders.
The president was referring to Judge Griesa's decision to allow Argentina to make a one-time payment this week on bonds issued under Argentine law despite the blocking of funds deposited in a New York bank to pay the 30 June coupon to restructured bonds.
"These are contradictory resolutions: first yes, then no and now yes again bonds ruled by Argentine law can collect their monies".
The Judge authorized payments on restructured bonds governed by Argentine law because those securities can't be distinguished from bonds the country gave Spanish oil company Repsol earlier this year in compensation for the expropriation of its local subsidiary.
The Repsol settlement bonds aren't part of the defaulted bond dispute.
"The court cannot enjoin payment on the dollar-denominated exchange bonds without also upsetting the Repsol settlement," Judge Griesa said in his decision. The judge ordered the parties to come up with a way to distinguish between the Repsol and restructured bonds before the next interest payment
Earlier in the day, regional leaders arrived at the Simon Bolivar square to place a wreath in honor of the Venezuelan Liberator and to pose for the official group photo. However President Cristina Fernandez arrived 37 minutes late.
They convened at the "Yellow House" –Venezuela's Foreign Ministry- for a private reunion before the plenary session of the summit, during which the pro-tempore presidency of the bloc was transferred from Venezuela to Argentina.
Foreign Minister Héctor Timerman stressed Argentina's commitment "to keep working on the consolidation of Mercosur during its pro tempore presidency."
Speaking during the meeting of Mercosur foreign ministers in Venezuela, Timerman called for member states to work together toward "equal and fair rules so that sovereign debt restructuring processes can prevent actions of vulture funds."
Economy Minister Axel Kicillof, Industry Minister Debora Giorgi, Domestic Trade Secretary Augusto Costa and Argentine Ambassador to Mercosur Juan Manuel Abal Medina also joined CFK in Venezuela.