Judge Griesa summons Argentina and holdouts for a Friday hearing
Thursday, July 31st 2014 - 22:10 UTC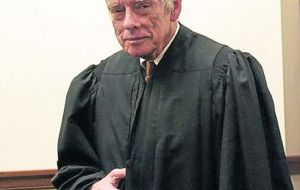 After negotiations between the Argentine government and the speculative funds, led by US Special Master Daniel Pollack failed, New York District Judge Thomas Griesa called for a new hearing between the parties for Friday at 12 pm (Argentina time).
The US judge overseeing Argentina's dispute with a group of creditors said a hearing he has set for Friday morning in the case will be "regarding the recent default by the Republic of Argentina," according to a court filing posted on Thursday.
On Wednesday, Argentina and a group of hedge funds holding some of its bonds failed to come to terms on a deal to avoid the country falling into default on its debt for the second time in more than 12 years.
A court's official informed on Thursday holdout representatives and Argentine officials will be part of the meeting.
Argentina's Economy minister Axel Kicillof and main negotiator of the failed talks, said he did not understand the workings of the US Justice system, since 1% of holdouts are impeding that 92% of bondholders who accepted the restructuring terms, from collecting the monies deposited by Argentina.
In effect the Bank of New York Mellon (BNY) sent a formal letter to holders of Argentina's exchange bonds essentially confirming that the sovereign had defaulted.
The letter confirmed that BNY, acting as trustee, was still holding the funds that would have covered the payment due by July 30 in the wake of a US court order not to release the funds.
That order came from Judge Thomas Griesa, who ordered Argentina to pay holdout creditors in full when it made its next payment to holders of the exchange, or restructured bonds.
"Pursuant to the court's earlier orders, the trustee continues to hold the funds," said the letter.
"The funds are held pending any further court order. The nature and timing of any future court order regarding the funds are not yet known," it added.