Mercosur divided on the Gaza Strip statement; Paraguay dissented
Thursday, July 31st 2014 - 07:39 UTC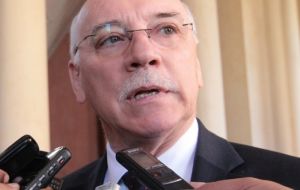 Paraguay strongly objected a draft Mercosur declaration on Gaza which wanted to openly support Palestine and unilaterally condemn Israel's bombings and incursions, according to sources at the group's summit which took place Tuesday in Caracas.
Apparently during discussions on the declaration, Venezuela proposed a strong statement in support of Palestine, but contrary to the majority of Mercosur members, the Paraguayan president refused to sign it, which caused disappointment among his fellow heads of state.
"We can never support a declaration on those terms. Paraguay favors dialogue and rejects all forms of violence", said Foreign minister Eladio Loizaga, who added that Paraguay supports the peace negotiations proposed by Egypt in the framework of the United Nations.
According to sources President Cristina Fernandez made a strong appeal in support of the pro-Palestine declaration emphasizing on all the children and mothers that are being indiscriminately killed by the bombings.
Venezuelan president who made the original draft is known to be an advocate of Hamas, which is fighting Israel.
Since former president Hugo Chavez took office and Chavism has been the leading political force in the country, Venezuela has openly sided with the fundamentalist groups and has had problems at home with the Jewish community.
Argentina's Cristina Fernandez on at least two occasions mediated between Chavez and the Venezuelan Jewish community.
Brazil's Dilma Rousseff said it was imperative that all hostilities cease immediately in the Gaza zone and a solution is found to avoid the "outrageous use of force". In Brazil the president was quoted describing the Gaza situation as a 'massacre'.
Finally the declaration was supported by Argentina, Brazil, Venezuela, Uruguay and Bolivia, stating that they reject the use of excessive force by Israel in the Gaza Strip.