Argentine president defies Judge Griesa rulings and mocks 'selective default'
Friday, August 1st 2014 - 07:52 UTC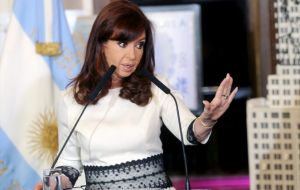 President Cristina Fernández said on Thursday she will not "sign an agreement" that compromises Argentina's future, while blasting "vulture funds" for wanting to "collect Griesa's usurious sentence", following the Wednesday failure of negotiations between the country and holdouts.
"Default is not to pay, and Argentina has paid and will continue to pay" insisted the President, and added that risk agencies have invented a "new, peculiar term: 'Selective default'."
"Conditions for default are stated in debt emission, in the contract, and a payment block is not in it," underlined the president in reference to New York judge Thomas Griesa's ruling that blocked Argentina's payment for exchange bondholders in the Bank of New York Mellon.
The president convened ministers, governors, lawmakers, bankers, business, industry and trade organizations as well as union leaders and other groupings to listen to her speech on events arising from the failed discussions with holdouts.
The rest of Government House was packed with militants waving flags and banners, and as usual the ceremony ended in a political rally.
Cristina Fernandez assured Argentina has will to pay and will honor its commitments with the totality of bondholders, including holdouts, but the government will not pay the "usurious" amount that follows US federal judge Thomas Griesa's sentence.
"Vultures want to collect Griesa's usurious sentence," the President said.
"This does not mean Argentina will not continue negotiations. We want to come to an agreement. But we have to defend our people's interests. We want a fair and equal agreement."
CFK said Argentina will seek "other options" to solve the debt situation "within the limits of the law" as Argentina is "a Republic and any outcome will have Congress approval."
Finally the president concluded by saying she feels "proud of the international support" gained while receiving "financial missiles" from "vulture funds", and pointed out "the world keeps going" after yesterday's failed negotiations and "so does Argentina."