Argentine shares and bonds plunge, while US dollar climbs as operators seek refuge
Friday, August 1st 2014 - 08:24 UTC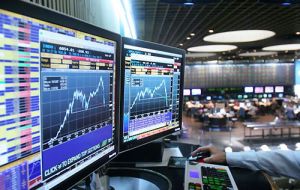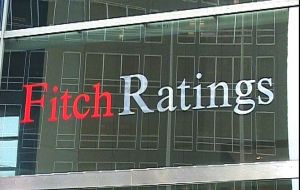 Argentine shares and bonds plunged on Thursday as investors reacted to the failed negotiations between Argentina and the holdout hedge funds in New York. At the Buenos Aires City stock market the Merval index closed down by 8.4% to 8,187.99 points, far from yesterday's record 6.9% climb.
Among public titles, the Bonar 2017 fell by 4.4%; the Discount by 8.3%; the Par by 6.9%, while the Boden 2015 fell back by 3.8%.
GDP-linked coupons plunged by 8%, while Argentina's risk score climbed 13.9% to 622 points.
At the New York Stock Market, Argentine shares plummeted, banks and energy firms being the most affected. Argentine YPF energy company by 8.4%; Edenor by 9%; Pampa Energía by 8.8%; Telecom by 8.7% and TGS by 8%.
In the money exchange market the "blue" dollar climbed 40 cents to 12.70 Argentine pesos on Thursday. The official dollar closed up by a cent to 8.23 pesos in Buenos Aires City banks and foreign exchange offices.
Amid uncertainty over the ongoing negotiations between private banks and the holdouts, who allegedly continue to work on a deal after the talks with the government failed, operators seek refuge in the "blue" dollar in the parallel market.
The blue-chip swap fell back to 10 pesos while the stock exchange rate climbed to 11.35 pesos
Meanwhile the Fitch rating agency has officially downgraded Argentina's sovereign debt grade to the category of "restrictive default", as it considered the country failed to make payment of its Discount bonds on July 30.
The agency downgraded Argentina from "CC" to "RD" and also lowered Discount bonds rating from "CCC" to "D", arguing Argentina "has not been able to attend payment of Discount bonds and according to Fitch criteria this constitutes a non-completion."
The announcement follows Standard & Poor's, that on Wednesday made the same decision after Argentina could not make the 538 million dollar payment on 2005 and 2010 debt swap bonds due to a financial block sanctioned by United States federal court amid the litigation of Argentina with holdouts or so called "vulture funds".