Hedge fund Aurelius denies any serious proposition to buy its holdout bonds
Friday, August 1st 2014 - 08:57 UTC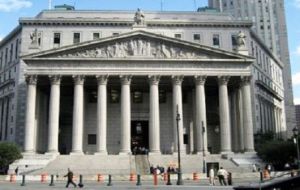 Aurelius Capital Management has shot down speculation that the hedge fund was fielding a viable private-sector proposal for selling its untendered Argentine sovereign debt in a bid to shorten the amount of time Argentina is in default.
Failure to reach an agreement between the holdouts, led by Aurelius and hedge fund Elliott Management Corp, and the Argentine government to settle a dispute before the midnight Wednesday deadline put Argentina into default for the second time in 12 years on its foreign law bonds.
Bonds governed by local law are unaffected.
"While Aurelius has at times been approached by private parties, or purported intermediaries for unidentified private parties, regarding the possible purchase of a fraction of our untendered Argentine bonds, much of what we have read in the press about such approaches has been, as far as we are aware, inaccurate or unreliable," Aurelius said in a statement.
"Aurelius has received no such proposal that we considered worthy of serious consideration. We do not undertake to comment further on this topic," the firm said.
Earlier news reports said JPMorgan Chase & Co was involved in one such approach, but the investment bank's spokesman said "no comment" when asked about the unsubstantiated stories.
Other sources indicated that negotiations with holdout hedge funds were being resumed on Thursday now with foreign private banks – such as the Citibank, the JP Morgan and the HSBC, taking the lead in talks overseen both from New York and Buenos Aires.