Brazilian media call Cristina Fernandez, "inept, arrogant and incompetent"
Saturday, August 2nd 2014 - 08:46 UTC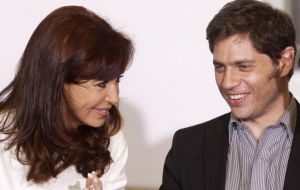 The leading Brazilian newspapers blasted Argentine president Cristina Fernandez as the sole responsible for the 'default event' which followed the failure of negotiations with holdouts in New York. This despite the fact Brazilian economy minister Guido Mantega denied Argentina was in default and strongly supported the Argentine government.
O Globo from Rio do Janeiro and Folha de Sao Paulo in their editorials did not heed in appealing to strong words to question the Argentine president's attitude which has triggered the current situation: "arrogance", "ineptitude" and "incompetence".
"The Argentine debt crisis is the outcome of much arrogance and lack of capacity in dealing with the creditors on the part of the Kirchners, both Nestor and Cristina. As well as a disastrous economic policy, populist and heterodox", points out O'Globo in its editorial with the heading: "The ruinous performance of the Kirchnerite Argentina".
The editorial also targets Economy minister Axel Kicillof, described as a "young Marxist professor" and points out that calling holdouts 'vulture funds' is ideological. Likewise hedge funds are "usual and necessary actors in world markets, since they help to give liquidity to bond rejected by investors".
O Globo warns that the current situation will generate problems to access to foreign credit besides making more severe recession and inflation.
Folha de Sao Paulo also is concerned about the future of the Argentine economy. "The fall in consumption and measures to contain trade deficits will further diminish the already contracted Brazilian sales to Argentina that in the first half of 2014 have dropped 20%.
Brazil is Argentina's main trade partner and for Brazil the most important behind China, EU and US.
"Argentina is in recession, mostly because of economic populism. Without credit Argentina runs the risk of a payments crisis, since foreign trade does not offer the sufficient funds to address international debts. And if Argentina pretends credit in the domestic market it will have to pay exorbitant interests", says Folha.
"It is not unlikely that political tension and some reduction in the already scarce foreign financing could force a strong devaluation of the currency and thus inflation and recession, plus interests".
Folha finally points out that Brazil is far from following the same path as its neighbor and main Mercosur partner, and supports the current Brazilian administration policies of president Dilma Rousseff.
"She is far from being so inept as the Cristina Fernandez that Argentina supports".